Best Betting Sites in Australia
Do you often struggle to choose the best from the plethora of Aussie betting sites? We fully understand your concern – that's where we take the stage.
We at OnlineBettingAUS.com deliver truthful, fact-based bookmakers' reviews to make it easier for all Aussie punters to select the best one among the 2023 betting agencies in Australia.
Stay with us, as we'll comment on
the Australian laws,
the promotions found at online bookies,
rank,
rate
and explore some popular sites, and finally serve some useful tips to raise your selection criteria successfully.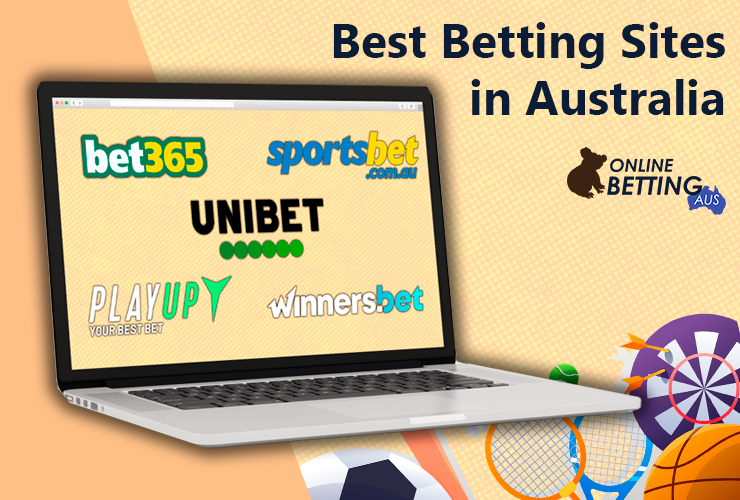 Video Review of Betting Sites in Australia
Best Australian Betting Sites and Reviews
We've analyzed over 50 betting sites in Australia and highlighted their most striking advantages as well as their disadvantages. All this is done for our readers, so before you start betting, please read the information in the table carefully.
Bookmakers list
Bet365
One of the best betting sites in Australia, but also worldwide. It offers the most extensive betting markets selection.
40+ sports to bet on;

Various payment methods
Delayed bank transfer withdrawals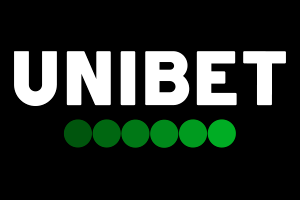 Unibet
A veteran expert in the field of best bookmakers in Australia, properly licensed and safe to play.
Varied betting markets, including virtual sports
Support is restricted to certain hours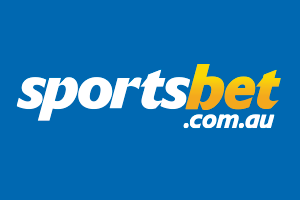 Sportsbet
Among the most well-known Australian betting sites, with a diversity of features and an Android and iOS app.
Convenient live betting section, including e-sports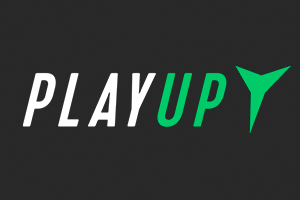 PlayUp
Placed among the leaders in Australian sports betting sites, Playup allows betting on various sports and horse races.
Favourable fixed odds on the desktop version and mobile app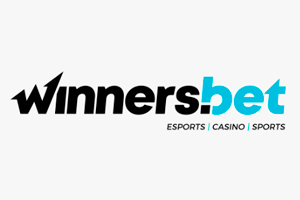 WinnersBet
A great choice among many online bookmakers, Winnersbet makes it possible to bet on 15 sports as well as 3 types of races.
Great fixed and tote odds for Australian races
Lacks e-sports among the betting markets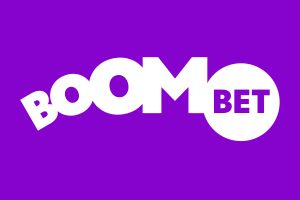 BoomBet
A smaller bookie among the Aussie betting sites but yet serviceable and convenient; it provides sports and racing services.
User-friendly design applicable on desktop and the mobile app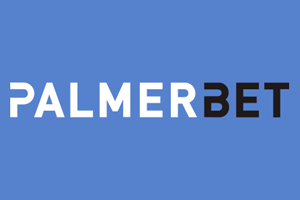 PalmerBet
Listed among the best betting sites AUS, this bookie displayed 20+ betting markets and great fixed odds.
Well-established Android and iOS app with extensive payments methods list
Lacks a live betting feature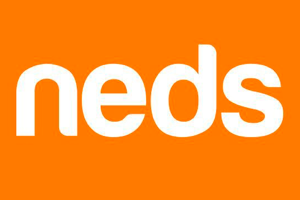 Neds.com.au
Neds is an optimal operator taking place among the best betting sites in Australia due to many positive features it presents.
Constant support over the phone, 24/7/365
Site tends to be unresponsive oftentimes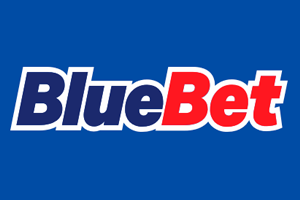 BlueBet
BlueBet is a secure and licensed Australian bookmaker, offering sports and racing services since 2007.
A prize-packed bonus list for both new and loyal punters
Doesn't offer live streams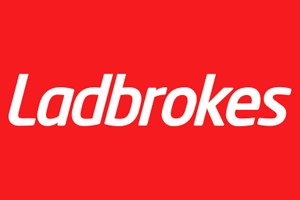 Ladbrokes
The oldest of all on our list, Ladbrokes has been providing outstanding betting services since 1886.
An enormous assortment of sports and races
Live streaming options are underdeveloped
Betstar
Betstar is among the best betting sites in Australia, offering a wide range of sports and horses to bet on.
A reliable mobile app for Android and iOS users
No 24/7 support via live chat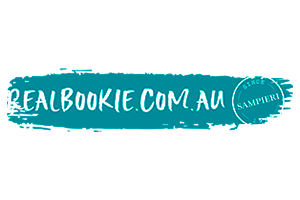 RealBookie
RealBookie has provided race and sports betting opportunities since 2020, deserving its place among the best sport betting sites in Australia.
Live streaming broadcast in high-quality
Some sports markets are missing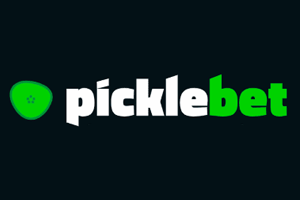 Picklebet
A somewhat unique but still among the best bookmakers in Australia, Picklebet focuses primarily on esports.
The widest variety of esports to wager on
Lacks wagering on horse racing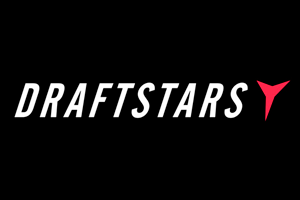 Draftstars
Probably the biggest among AU betting sites that specialises in fantasy sports only.
The greatest selection of fantasy sports available
Without the option to wager on real sports or races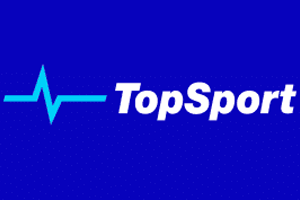 TopSport
Offering services since 1998, TopSport holds a place among the best bookies in Australia, with around 30 markets to bet on.
An all-encompassing mobile app with in-play betting available
Still doesn't feature live streaming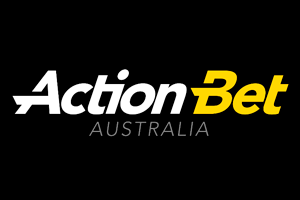 ActionBet
A satisfactory bookie among the many sports betting sites, ActionBet offers around 20 sports and races.
Safe and regulated, with an average number of markets on offer
No live streaming, nor live wagering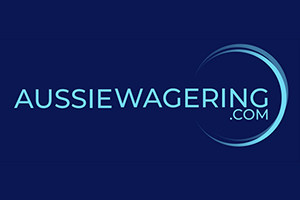 Aussie Wagering
Run by an individual since 1980, Aussie Wagering offers good odds and betting advice.
A fully licensed Australian site focused on racing only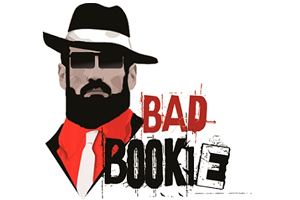 Bad Bookie
Bad Bookie is licensed by the Victorian Commission (VCGLR), providing various services for horse racing fans.
Favourable odds for racing only
Lacks regular and esports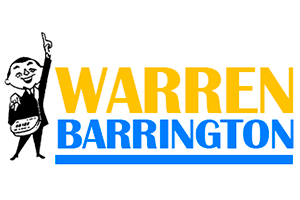 Barrington Bookmaking
Operated by an experienced individual bookmaker in Australia, the site is legit and safe to use.
Many horse, harness, and dogs races on offer
No option to bet on sports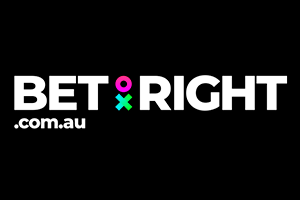 BetRight.com.au
BetRight is a brand new Australian betting site, providing betting on several sports and races.
Offers all traditional fixed odds and markets for sports and racing
A bit limited in the variety of payment and markets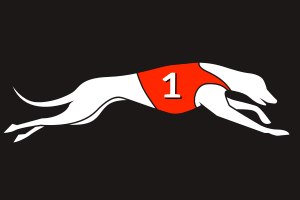 Betdogs
Betdogs is regulated by the Greyhound Racing NSW, specialising in greyhound bets and odds only.
Best fixed odds for greyhound and all types of dog races
Limited to dog races only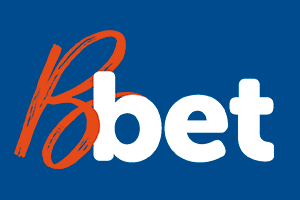 Bbet
A typical Australian bookmaker, approved by Racing NSW, promoting wagering at local bookies.
Concentrates primarily on racing
Poor assortment of sports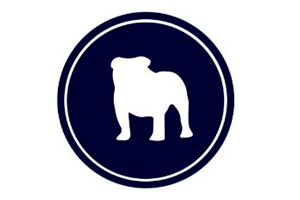 Beazabet
Beazabet is a small Aussie betting site, offering services to all horse racing punters.
Good odds for horse races strictly
Site doesn't accept bets on Monday and Tuesday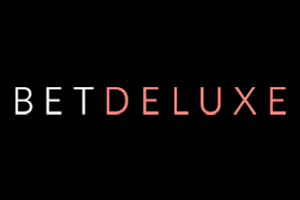 BetDeluxe
BetDeluxe is an Aussie betting site providing opportunities to bet on a few sports and horse races.
Good odds and advantageous caps
No greyhound or harness racing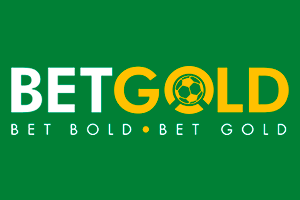 BetGold
Licensed by the Malta Gaming Authority, Betgold has an exceptional list of promo codes and prizes for bettors.
Promo codes and bonuses for new punters
Several country restrictions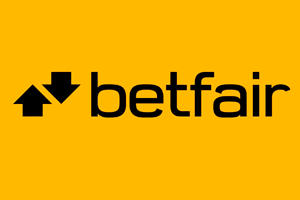 Betfair
A licensed Australian Sport betting site that offers lay and exchange bets among punters, known as trading.
A well-renowned trading site offering both in-play bets and live streaming
Somewhat confusing site design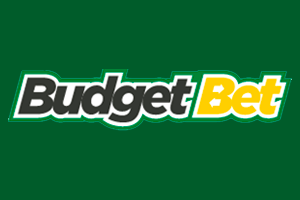 BudgetBet
This site is run by a small family of licensed bookmakers, where clients can haggle on the highness of prices.
A small bookie with good odds that allows mobile betting via an app
Very poor selection of sports and races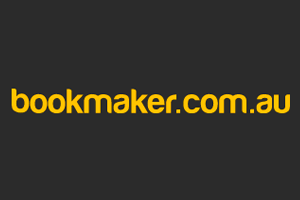 Bookmaker.com.au
Very similar to a few online Australian bookmakers, this site offers an average selection of markets to bet on.
Good tote odds and a possibility to place bets in-play
Lacks communication via live chat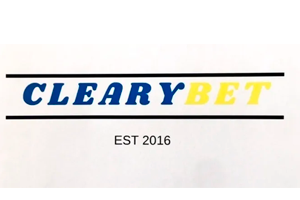 ClearyBet
ClearyBet is a local site suitable for high-rollers and beginners, and it is licensed by the VCGLR.
Responsive bookie offering good odds and reliable assistance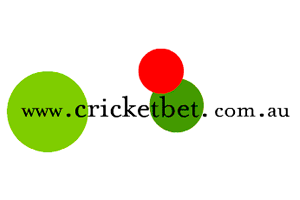 Cricketbet.com.au
Mostly targets high-rollers, this cricket-only site has a VIP platform for those who play with high stakes.
Best odds for cricket bettors
No wagering or other sports or races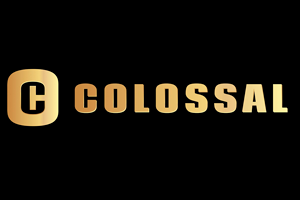 Colossalbet
Colossalbet is an Australian betting site providing decent betting services for an average quantity of sports and races.
Nice website design and easy navigation
Sports markets are a bit limited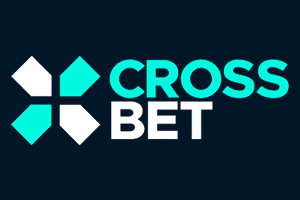 Cross Bet
Crossbet is secure and licensed by the Northern Territory RC. It offers acceptable odds on several sports and races.
User-friendly site with average odds
Not enough sports or racing markets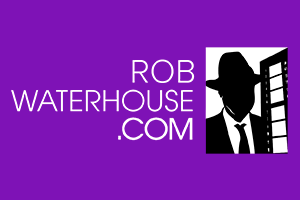 Rob Waterhouse
A recognizable name in Australia, Rob Waterhouse is an individual bookmaker licensed by the racing NSW.
Available mobile app for iOS users
Focuses mainly on racing, lacks some popular sports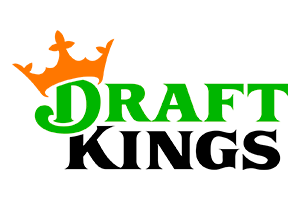 DraftKings
Draftkings is a worldwide bookie dedicated primarily to fantasy sports and wagering, as well as fantasy-related promos.
A wide range of fantasy sports markets
No racing or regular sports to place bets on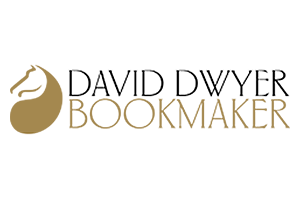 David Dwyer Bookmaker
Another reputable Australian name, this individual bookmaker offers decent odds on many popular local and international racing events.
A substantial selection of racing events
No sports wagering offered, only racing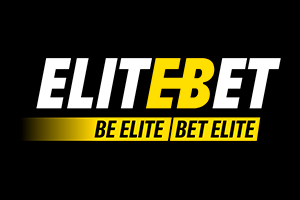 EliteBet
Elitebet is another beginner site in the list of online bookmakers, taking pride in exceptional customer service.
Decent odds and markets for beginners
Lacks diversity and excitement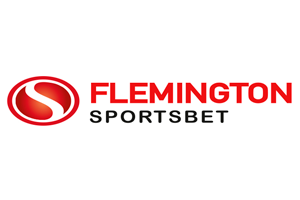 Flemington Sportbet
Flemington Sportbet is a site that offers several opportunities to bet on major Australian events.
Very few options on the page, good for beginners
Extremely limited in races and sports markets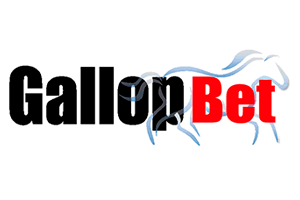 GallopBet
GallopBet is a racing-focused Aussie betting site licensed by the Victorian Commission for Gambling and Liquor.
A decent choice for rookies in horse, greyhound, and harness racing
No wagering on sports available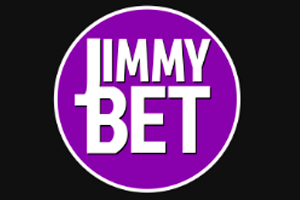 Jimmybet
Offering good odds and speedy withdrawals, Jimmybet is owned by a single licensed Victorian bookmaker.
Scarce racing and sports markets collection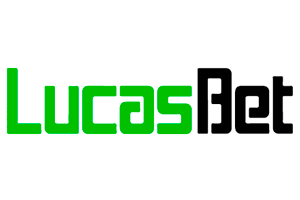 LucasBet
This family-operated company has been active since 1949, joining the online betting community recently.
A worthy selection of racing events to bet on
Only two payment alternatives available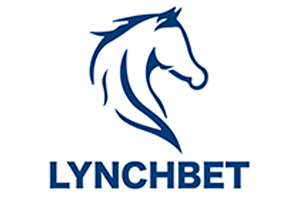 Lynchbet
Run by a family of experienced bookmakers, Lynchbet transfers its services online, being licensed by Racing NSW.
Great place for all rookies interested in all types of racing
No regular sports nor esports possibilities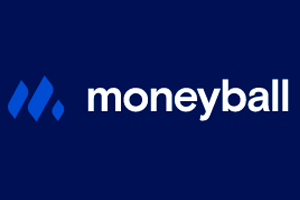 MoneyBall
A transparent mobile Australian sports betting site that enables wagers on fantasy sports as well.
All services are available on a perfectly established Android and iOS app
No web option for wagering at all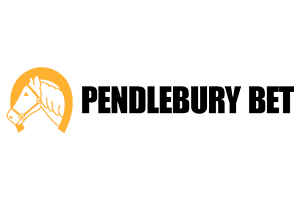 Pendlebury Bet
Jeffrey Joseph Pendlebury is the man behind this betting site, licensed by Racing NSW, where punters can place bets on various races.
Fair odds on horse, harness and greyhound races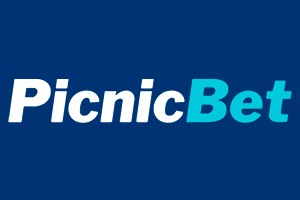 Picnicbet
Active since 1981, PicnicBet is registered under the VBA (Victorian Bookmaker Association), providing odds for 15 different sports.
A functional app incorporating many betting markets
Odds could be better; some are too low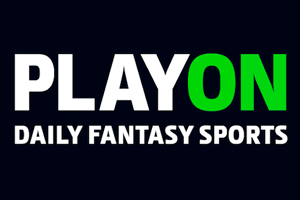 PlayON
PlayON has been the gathering place for all fantasy sports lovers since 2012. It is licensed by the British Gambling Commission.
Fantasy games in 9 sports
No racing or regular sports markets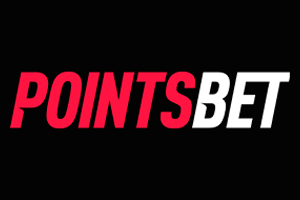 PointsBet
This Australian betting site stands out from the crowd due to the possibility of spread betting, notwithstanding the fixed odds it offers.
Uncommon spread betting feature available
Not enough withdrawal methods available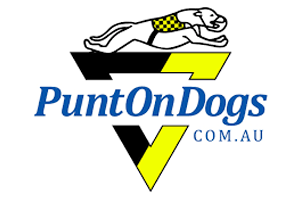 Puntondogs
Launched by a group of dog races enthusiasts, this bookie now provides services under the licence of the New South Wales Greyhound Welfare and Integrity Commission.
Favourable odds for greyhound races
No horse racing, regular or esports wagering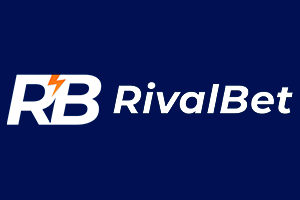 RivalBet
This app-based bookie is licensed by the Northern Territory Government and offers great odds and peer bets.
Great friend-to-friend betting feature
Lacks web wagering possibilities, only available on app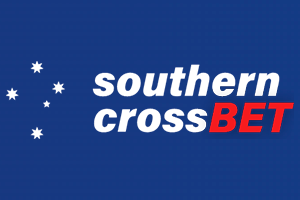 Southern Cross Bet
Mark Johnson, the operator behind Southern Cross Bet, is a famous local bookmaker active in the industry since 2004. His online site is licensed by the Office of Liquor, Gaming and Racing NSW.
A neat, user-friendly interface
Only three payment options – Visa, Mastercard and POLi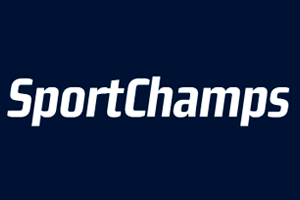 SportChamps
Specialising in tournament betting, SportsChamps is licensed and regulated by Australia's Northern Territory Government.
Greatest tournament betting possibilities, both on web and iOS and Android apps
No traditional racing or sports wagering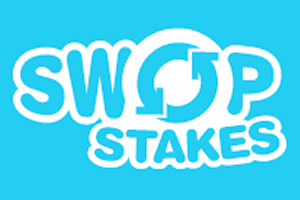 Swopstakes
Having developed an Android app only, Swopstakes is operated by an Australian subsidiary of Six Faces p/l.
Delivers a special type of betting called sweepstakes
Lacks traditional wagering possibilities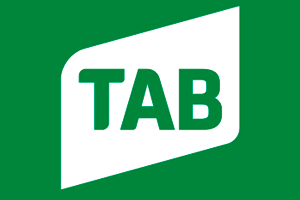 TAB
Placed among the most reputable betting agencies in Australia, TAB offers in-play wagering, multi builder, and other features.
An expansive selection of both racing and sports events to bet on
Website design is outdated and sometimes glitches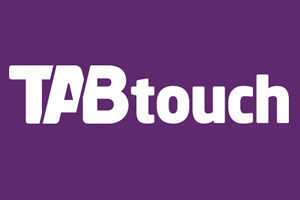 TABtouch
TABtouch is another online site delivering race and sports wagering services, licensed by the WA Department of Local Government, Sport & Cultural Industries.
Satisfactory collection of racing and sports markets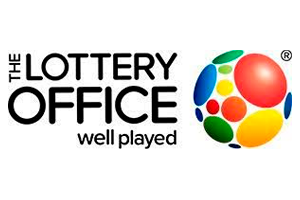 The Lottery Office
Operated by Global Players Network Pty LTD, the Lottery Office is a safe place to play online lotto, licensed by the Northern Territory Government of Australia.
10 international lotteries to buy tickets for
No betting on races or sports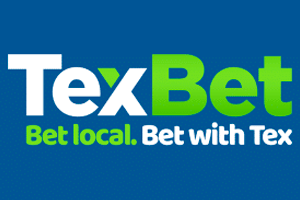 Texbet
The bookmaking business of the operator behind Texbet has run since 1973, coming online in 2020 with several sports and racing markets to bet on.
Fairly-attractive odds for racing and sports
Not so numerous market selection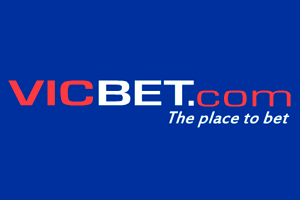 VicBet
VicBet took their veteran bookmaking company online in 2005, and they are licensed and regulated by the Victorian Commission for Gambling and Liquor Regulation (VCGLR).
Favourable odds for many national and international races
Poor web interface and design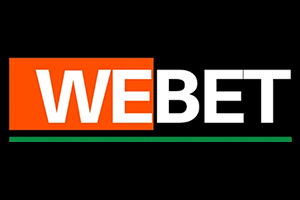 Webet
Webet is an Australian betting site owned by Garry Clarke, an experienced bookie. The site is regulated and holds a licence by Racing NSW.
Reliable live chat support
Just average, no special features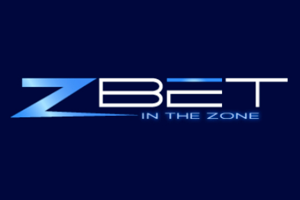 Zbet
Zbet is a local Australian bookie based in Melbourne, which offers wagering on several sports and races under the licence of VCGLR.
High-quality live streaming channel
Unfavourable odds for certain sports and races
Our Bookmakers Reviews
Our thorough bookmakers' reviews include the most vital aspects every punter should consider before deciding on the best betting agencies Australia has at disposal.
We turn every bookie's site upside down to investigate the markets it offers, any special features tailored for registered Aussie players, sports promos, the availability of live betting or streaming, as well as the overall safety and security of each site.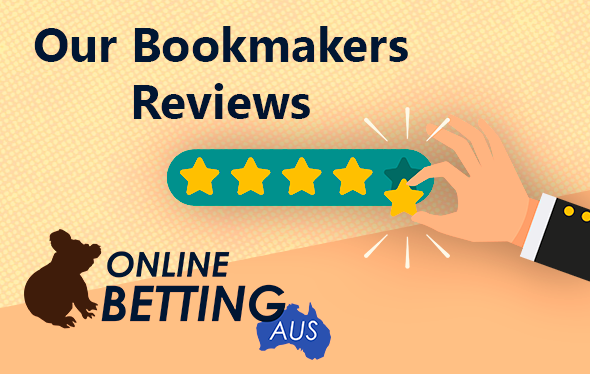 Our Conclusion about each Bookmaker site
Once we inquire into the ins and outs of a certain bookie's site, we provide an unbiased conclusion and a final verdict on whether the particular site is worth considering or not.
The conclusions we make are based on many evidential factors, such as payment methods, betting markets, odds compared to other competitors, customer care, as well as unique features such as peer-to-peer betting or preliminary cashouts.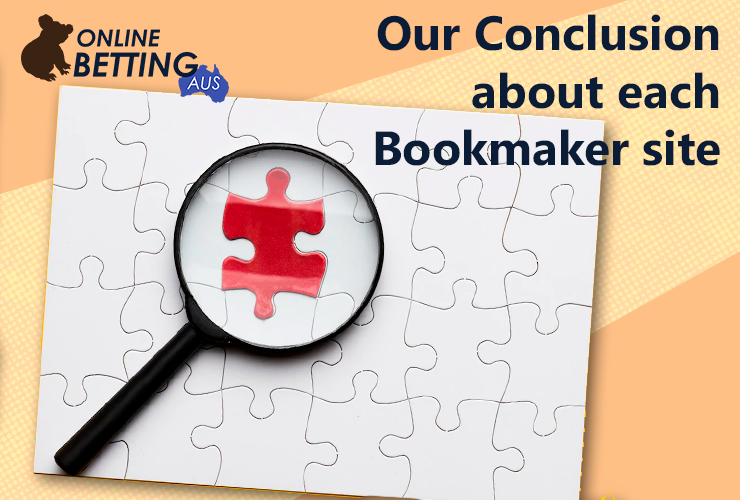 Betting sites Australia
It's no wonder that the best betting sites are all Australian – the land down under is home to the most avid sports betting enthusiasts, with a tradition going back to when it was possible only to pay physical betting slips at your nearest TAB.
With technology going forward, many Aussie punters have taken to transferring their favourite hobby online, so the rise of online Australian sport betting sites was simply inevitable.
Aussie bettors are very picky when it comes to placing bets at a particular online bookmaker, which is why we were very fault-finding when selecting the best online agencies for them.
The sites on our lists are meticulously selected, all licensed by a trustworthy regulatory body in Australia, providing favourable odds, one-of-a-kind features and numerous races and sports to place bets on.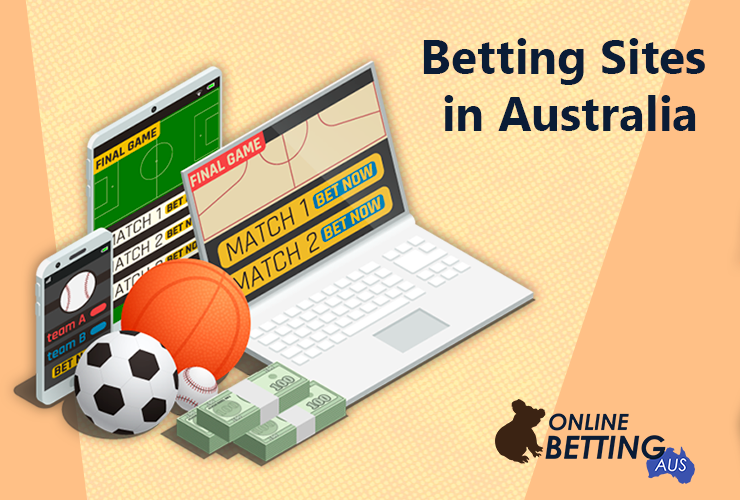 What are Online Betting Agencies?
Online betting agencies are licensed companies that provide a special type of service for all sports and racing enthusiasts keen on predicting the outcome of a certain sports event or a race by placing a bet on them.
Further on, we will clarify the role of the betting agencies and explain how to start your adventure at one.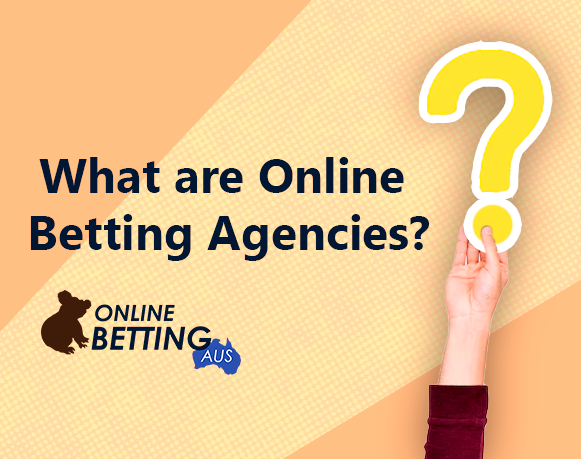 What they do
You can refer to online betting agencies by different names – bookmaker, bookie, or simply a betting site.
These sites specialise in providing betting services for punters worldwide – they display all major races or sports events on their sites, organise the information in neat categories, present their odds, and let you place bets on the race or event of your choice.
Some of these online bookies also develop a special mobile app, which usually offers the same functionalities – punters can still select out of the presented races or sports events, find the odds in their favour, and place a bet.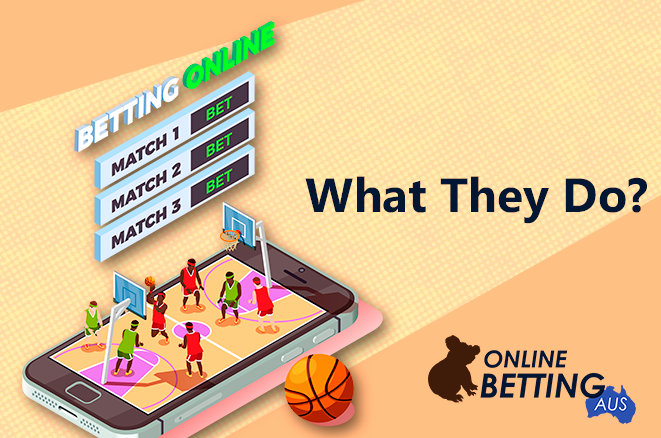 How to start playing with a Betting Agency
Whichever site you choose from our list, signing up and playing there will be equally easy and straightforward. Consult our step-by-step guide and do it yourself:
Read through our info-packed reviews and choose one bookmaker.
Click on the site's name, which will redirect you to their official website.
Find a 'Sign up' or 'Join' button, usually placed on the top right corner.
Follow the on-screen instructions and create an account.
If needed, verify the account by sending some required documents.
Find the cashier and deposit a certain amount.
Choose a sports event or a race.
Pick your odds.
Enter the amount you want to wager.
Proceed towards placing your bet.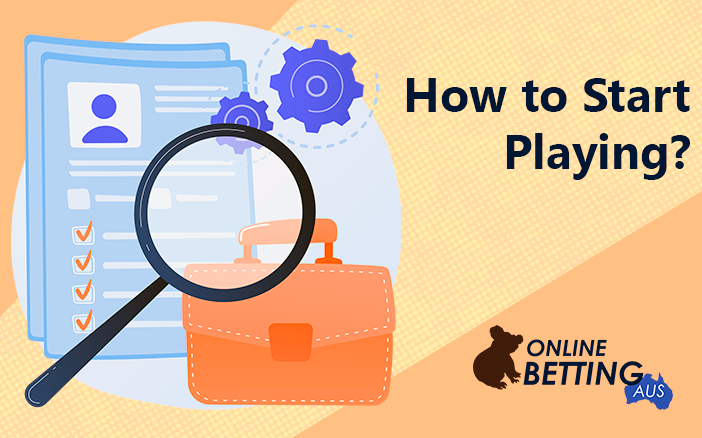 Our TOP list of Best Betting Sites
Whenever you have trouble picking one out of all the betting sites Australia offers, feel free to consult our list at OnlineBettingAUS.com.
Read below as we will unravel all details regarding the 'best of the best' online betting sites.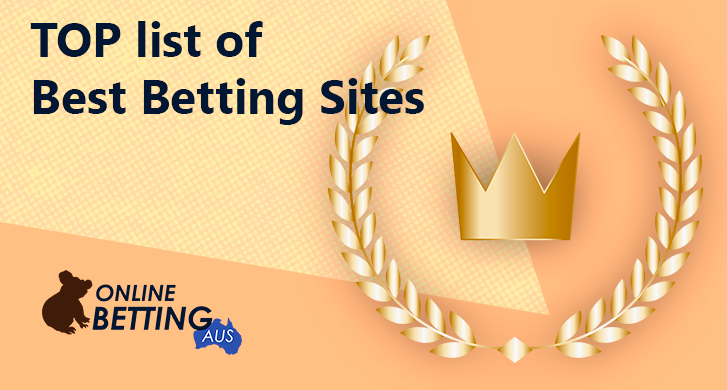 Bet365
Having launched back in 2000, Bet365 is probably the biggest all-inclusive betting destination for Australians and worldwide punters. The site is fully licensed and regulated by the Northern Territory Racing Commission and also holds a Thawte SSL Certificate that guarantees the safety and encryption of all processed data.
Bet365 is listed among the best betting agencies in Australia because it offers wagering on 40+ different sports and the hottest races worldwide. Aussie punters can bet in-play, use the multi-maker feature, and enjoy sports-related promos.
Pros
An all-embracing sportsbook and racing selection;
A big number of payment options;
Possible cashout;
Attractive odds at all times.
Cons
Confusing and old-fashioned web design;
The site can't be accessed via a VPN connection.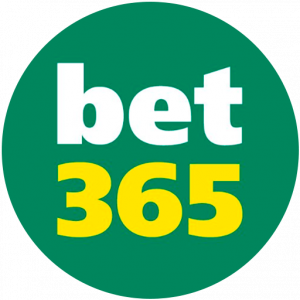 Unibet
Another one of the largest betting agencies AUS, Unibet has been delivering sports and racing wagering services since 1997. Unibet holds a licence issued by the Northern Territory Gaming Commission and has managed to collect multiple awards so far.
Unibet has a range of more than 30 sports to place bets on, and punters can also view statistics and live scores for each of them. Moreover, racing is a huge deal on Unibet's site, where punters can explore a lot of local and international races but also read guides and acquire additional info on various gallops.
Pros
Several features available;
Quality live streaming;
Informative blog;
High odds for sports and races;
All-embracing mobile app;
Developed live betting section.
Cons
Support isn't active at all hours;
Betting app sometimes lags.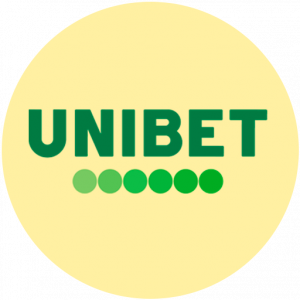 Sportsbet
Sportsbet is an online bookmaker in Australia, started in 1993. It is owned by Flutter Entertainment PLC and holds a licence, and is regulated by the Northern Territory Racing Commission. Its neatly organised website and fairly decent odds attract rookie punters to the platform, and loyal ones can enjoy extended features such as the multi builder, the Bet Live in Running on mobile, as well as top tote exotics.
Before placing win or place, trifecta, exacta, or any other type of bet on your favourite horse, Sportsbet suggests setting a deposit limit to prevent addiction issues.
Pros:
Live Racing streaming
Bet with Mates feature
Multi builder feature
Guides & instruction books
Live Chat available
Functioning Android and iOS mobile app
Cons
Odds on some sports have room for improvement
Cluttered web design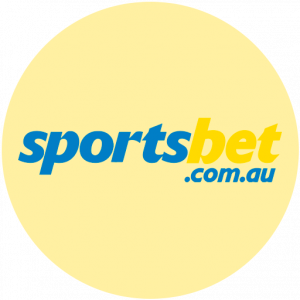 PlayUp
Having launched in 2019, PlayUp learned from the best and delivered a polished, updated betting service, taking its place among the best betting agencies Australia. The site is completely Australian-owned, operated by PlayUp Interactive PTY LTD, and is licensed by the NT Racing Commission.
PlayUp offers probably the most attractive fixed odds on racing currently found among the Australian wagering agencies. Punters can place exotics and singles on their favourite horses at the most famous racecourses such as Albury, Townsville, and Wellington but also place bets on greyhounds and harnesses.
The sportsbook at PlayUp is well-developed, too, with bettors having the opportunity to select from more than 20 sports – Australian Rules, cricket, Rugby league and union, and many others.
Pros
Best racing fixed odds
Simple and user-friendly webpage
Great live betting section
Speedy and all-inclusive mobile app
New and modernised bookmaker
Cons
Lacks live streams
Some smaller sports are excluded from sportsbook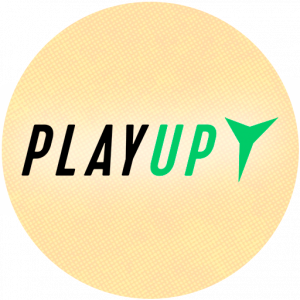 WinnersBet
Relatively smaller than its predecessors on our list, WinnersBet still catches the attention of many Australian punters, due to its simplicity and fairness. This newcomer to the online bookmakers was founded in 2020 by Da He, and it is licensed and regulated by Racing Victoria, with licence number Bl2002171.
Special features, a large selection of payment methods and VIP rewards are still missing here. Still, WinnersBet presents great tote odds for Australian races and also offers protest payouts for Aussie punters. There are quite a lot of racing markets where bettors can wager on, but the sportsbook is far less competitive than other bookies on our list, offering around 15 local and international sports.
Pros
Great tote odds
Best protest payout
Straightforward and intuitive to use
Concentrates on racing markets
Cons
No live streams or in-play betting
Poor selection of payments alternatives
Lacks in sports markets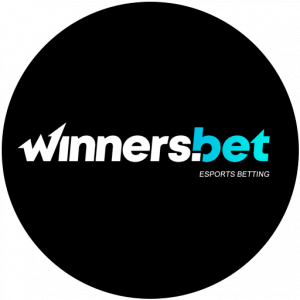 Neds
Neds takes a deserved place among the best betting agencies in Australia, having only recently launched in 2017, but standing up to par to the biggest industry names. The site's services are licensed and observed by the Northern Territory Racing Commission.
Boasting some exceptional features such as same race multi, blended betting and live betting, Neds has personalised the experience for its customers by providing a Neds ToolBox and card. The card serves for immediate access to your sports winnings and enables faster payouts and online purchases as well.
Besides the how-to guides regarding the Toolbox and the Card displayed only to registered players, Neds offers two separate 24/7 support and betting lines for any further questions.
Pros
Unique features like the ToolBox and Neds Card
A substantial selection of sports and racing markets
New and sophisticated approach to betting
Same race and blended betting
Rapid and versatile payment providers
Cons
Appearance similar to other betting agencies
In-play betting section should be worked on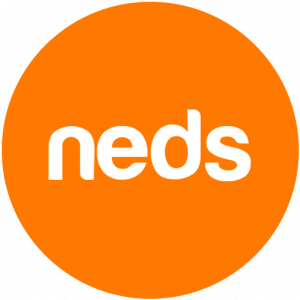 PalmerBet
PalmberBet initiated its online betting services in 2013 and the company owner is Palmer Bookmaking Pty LTD. The site is solely owned by Australians, and it is licensed by Racing NSW and regulated by OLGR. The site is additionally secured by 2049-bit encryption.
PalmerBet offers fixed and tote odds for numerous racing and sports markets, as well as same race multi and same game multi betting, eligible only for AFL, NRL, NBA, NBL, NFL, and soccer.
Alongside the various markets, PalmerBet has also tailored many promotions that become visible once you register. You can also place your exotic or standard bets via the well-rounded app available for Android and iOS devices.
Pros
A huge assortment of betting markets
Good fixed and tote odds
Available mobile Android and iOS app
Great manuals and helpful guides
Cons
No live chat
Very basic site design
Lacks live streams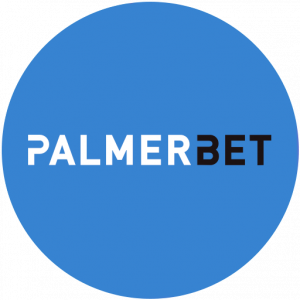 BlueBet
BlueBet is another on the list of the best of all betting sites Australia, staying active in the industry since 2015. The company founder of BlueBet is Michael Sullivan, who obtained a licence from the Northern Territory Gaming Commission.
The site is smaller compared to the biggest Aussie-owned competitors; nevertheless, it offers wagering on horse, dogs and harness races, as well as around 20 different sports markets. Punters here can find high fixed odds on popular gallops and Australian Rules events.
Probably the best feature of BlueBet is its perfectly-established mobile app, providing exceptional services to Australian mobile punters.
Pros
Early payouts for some markets
A very well-developed betting app
Favourable tote and fixed odds for selected markets
Rich promo section for registered punters
Owned by recognizable Australian bookie
Cons
Lacks live streams
Speed maps are missing
Smaller sports are not included in sportsbook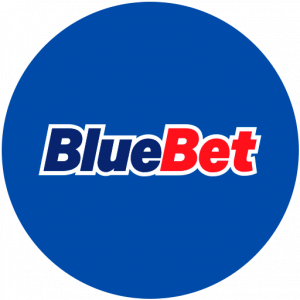 BoomBet
Boombet, or known as Sportsbetting.com.au until 2021, was founded in 1998, and is now a proud member of our best online betting sites list because of the favourable odds and the variety of racing markets. BoomBet is licensed, and the Northern Territory Government legally approves its services.
The simple site design makes it easy to navigate throughout all the sports, leagues, or featured events and racecourses. Punters can also find a variety of betting products listed in a separate section, and some of these include best tote, best of two totes, fixed win and fixed place, BOB, matchups, total points, etc. Despite being limited in diversity regarding particular sports and markets, rookies can come across decent fixed odds and daily promos after registration.
Pros
Simplistic design and user-friendly interface
Mobile betting via Android and iOS app
Favourable fixed odds
A vast selection of betting products
Cons
No live streams
No special features
No live betting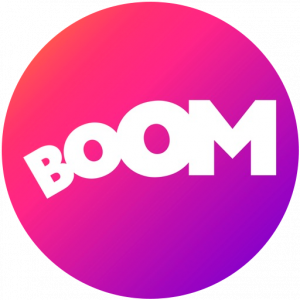 DraftStars
Aussies love wagering on fantasy sports, which is why we listed DraftStars among the best betting sites in Australia. DraftStars is powered by PlayUp, owned and established by PlayUp Interactive in 2019, and provides exciting wagering opportunities on 15+ fantasy sports only. The site is licensed by the Northern Territory Gaming Commission.
Since fantasy betting is a relatively new concept, DraftStars offers a PlayBook clarifying all the details related to fantasy sports. Currently, punters can place bets on fantasy AFL, NRL, NBA, Golf, Racing, EPL, and cricket. A unique feature available on the site is the Rapidfire contests, where bettors can predict which player will score more DraftStars points for individual matchups between players.
Pros
The largest collection of fantasy sports online
Special features available
Owned and operated by a well-known industry name
Cons
Doesn't offer traditional betting on sports
No racing markets either
Banking methods are scarce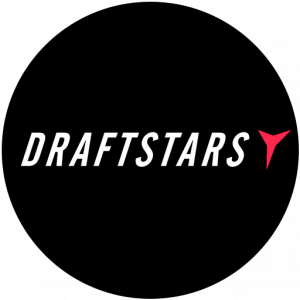 Picklebet
The ultimate gathering point of esports lovers, Picklebet is on our list of best betting agencies Australia because of its remarkable variety of betting on esports. The site was launched by Damon Oudejans and Nick Heaney in 2017, enriched with traditional sports in 2021, and its operations are licensed by the Northern Territory Government.
At PickleBet, punters can place their single, prop, or odd/even bets on several esports, including Warcraft 3, Valorant, Rocket LEague, King of Glory, Call of Duty, Rainbow Six, LOL, StarCraft 2, FIFA, CS: GO, and Dota 2. Even though still missing some major and smaller sports, the regular sportsbook is also included on the site of PickleBet, and punters can wager on around 15 various markets. Sadly, betting on races isn't still available.
Pros
Decent collection of esports
Reliable customer support
Competitive odds
Minimalistic web design
Cons
Placing bets on races isn't possible
Underdeveloped sportsbook
Not enough payment providers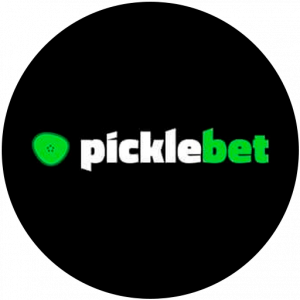 TopSport
TopSport's owners, Lloyd and Tristan Merlehan, are experts in the field of bookmaking, starting their business around 30 years ago. Today, TopSport is a small but trustworthy Aussie betting site that holds a valid licence issued by the NSW Government and is also regulated by Greyhound Racing NSW.
TopSport is home to 30 various betting markets, including a wide selection of greyhound races. Here, punters can also participate in jockey challenges and box challenges and place in-play bets.
Visitors can catch a glimpse of the promo section and awards too. It includes various prizes and features such as loyalty gifts, protests payout, best of the best multi, and other privileges for registered punters only.
Pros
Next-level, personalised customer service
Protest payouts
User-friendly desktop version and mobile app
Limits are higher than competitive sites
Cons
Long-drawn-out withdrawals
Lacks live streams
Lacks live chat option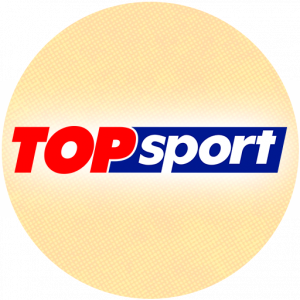 BetStar
Similar to Ladbrokes both in terms of services and design, Betstar is another popular online bookmaker among Australian punters. The bookie was launched in 2007 by Entain PLC, and it holds a licence issued by the NT Racing Commission.
Betstar enables wagering on many sports, such as the Australian Rules, boxing, as well as darts and esports, but placing bets on races and participating in jockey's challenges is the most preferred option of punters here. The attractive aspects of Betstar include protest payouts, best tote or SP odds, past the post payout, as well as features like miscellaneous betting guides and the Betstar card.
Pros
Great odds for all horse races
A satisfactory variety of markets
Unique features
Well-organised live betting section
User-friendly mobile app
Cons
Occasionally unresponsive customer agents
Very similar to Ladbrokes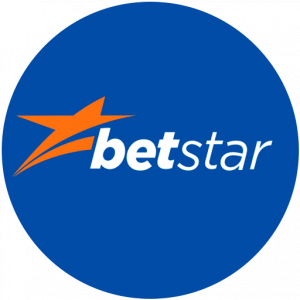 How do we Review each betting site?
Our goal is to deliver objective, fact-based reviews for all our readers. We always go through carefully selected criteria, see whether the site matches our standards, rate it, and then present our verdict. These are the aspects we attentively consider:
Bonuses
Is there a welcome bonus that successfully attracts rookie punters to the site? What about risk-free bets or a loyalty award of any kind for the more experienced? Bonuses are a vital, consistent part of every page, and we always check how lucrative and frequent they are.
Market variety
To be placed among the best betting sites, the bookie should include at least 15 different markets for punters to choose from. Starting from all Australian Rules events and leagues, all the way to punters' favourite thoroughbred races and dogs competition – market variety is another important aspect we consider.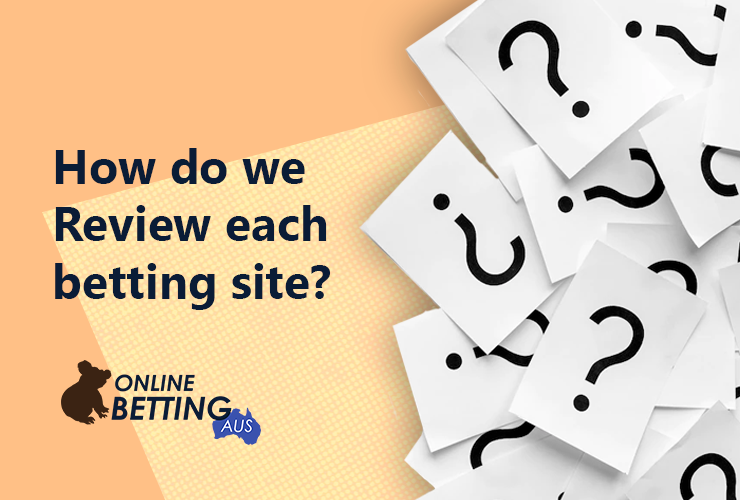 Mobile experience
Having the possibility to bet via your mobile is crucial, all the better if the site has created a special mobile app. We review all app functionalities – easy access to all website features, user-friendly interface, and lag-less experience.
Registration process
Registering with a bookmaker shouldn't take more than several minutes. This process needs to clearly lay out the requested details and not ask for too much personal information from punters.
Verification
Almost all of the bookies on our list require punters to verify their identity, thus their account. We test this process by considering the type of documents players need to hand in and the processing time on behalf of the bookie, which should never be too long and make punters lose interest.
Payments
Choosing from a carefully selected palette of payment options is very important when placing a bet. Not only should the list be varied enough, but it should also contain exclusively trustworthy and relia favour of the customers.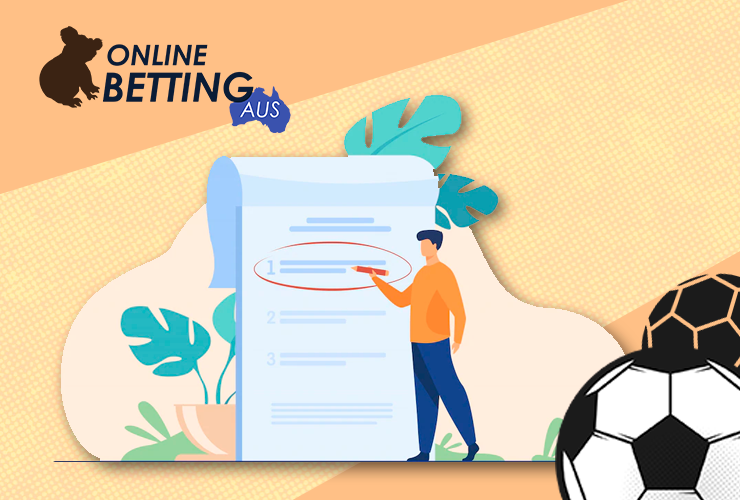 Reputation on the internet
When reviewing a certain site, we also take it to the old-school blog posts and comments left by fellow bettors. These testimonials say a lot about the reputation of a betting site, its tendency to solve posed issues, and the overall feeling of playing on the site.
Security
Users provide personal information almost every time they register an account, so the security of this info is of the utmost importance to us as a review team. We constantly check whether the site uses the latest encryption technology to process transactions and whether private info is appropriately stored.
Support
Customer care plays a huge part in the credibility of a betting site. The agents should be there to help users with any issue or inquiry they might have. Punters should be able to easily reach support via email, phone, and a 24/7 live chat.
Licence
All betting sites Australia presents are obliged to hold a proper licence in accordance with Australian laws. Most of the sites on our betting agencies Australia list are licensed and regulated by the Northern Territory Racing Commission or VCGLR.
Odds
BOB (best of the best), fixed, tote odds – you name it. A display of various odds and the option to choose between fractional, decimal or moneyline odds is another prospect we carefully consider when selecting the best sport betting sites for you. What's more, sites have to keep up with the competition and provide high and favourable odds for their users.
Live-Streaming Options
What's more enjoyable than placing bets while a game is happening? Watching it via a live stream. Many of the sites on our list offer live streaming options for many sports and racecourses throughout Australia. Aussie punters love watching a racing channel while preparing for their next bet slip.
UX Users need to have a pleasant experience when browsing the site of a bookie. This means quickly finding what they are looking for, navigating through intuitively placed buttons and links and overall user-friendly design of the page.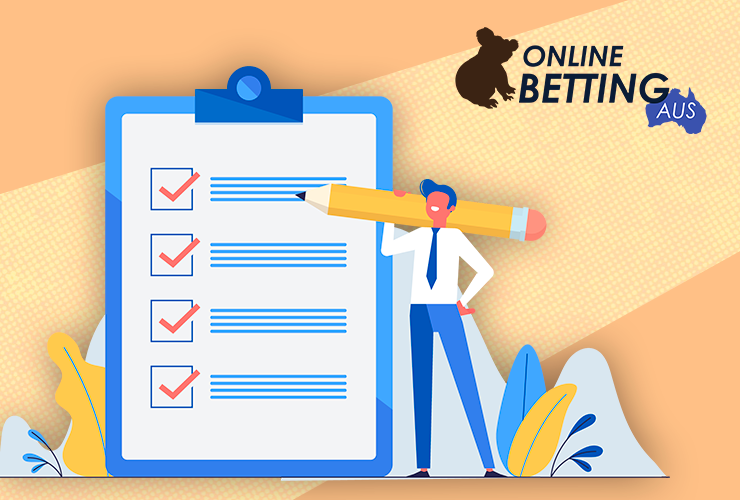 Are Online Betting Sites Legal in Australia?
The short answer here is – yes. It is entirely legal to own and operate an online betting site in Australia, as well as to wager at any you encounter and choose.
What drives punters to impose this question over and over again is the ambiguity of the Interactive Gambling Act, which the country passed in 2001. This document banned the operation of gambling sites on the territory of Australia, but sports betting sites were excluded from this prohibition.
Any online bookmaker that is properly licensed in Australia can legally provide betting services. On the other hand, individuals who like wagering on sports events can do so wherever they prefer, notwithstanding the fact whether the site is licensed or not.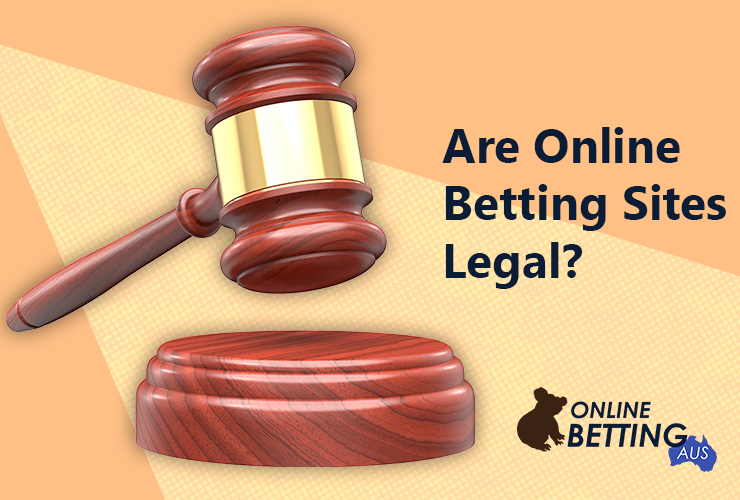 Bookmaker Odds and Markets
Aussie punters are constantly looking for heterogeneity when visiting online bookmakers. This can be concluded by looking at the different markets and the odds the bookie presents.
The ability to choose between various markets is a key feature. Aussie punters often go for wagering on horse races, and a good betting site would offer the most famous Melbourne and Caulfield Cup. However, major events in cricket, Australian Rules, golf, Rugby League and Union are an option, too, as well as smaller markets such as darts and esports.
On the other hand, odds directly influence your potential winning outcome. The higher the odds, the bigger the payout in case of a winning slip. So, always be careful to place bets at a bookie that offers higher and more favourable odds compared to other sites.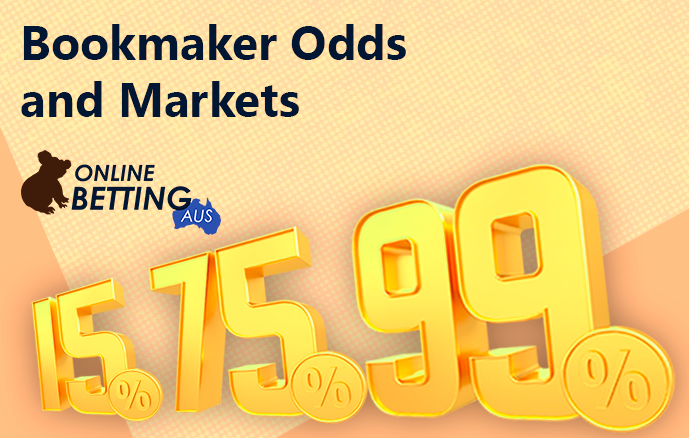 Horse Racing Betting
Australians simply love everything about horse racing, and watching a race taking place it's more enjoyable if you have put some of your affordable funds at stake.
Almost all betting sites in Australia on our list enable placing bets on various today's, tomorrow's or next week's horse races. Starting from the Melbourne Cup, W.S Cox Plate, Caulfield Cup, and Victoria Derby, which are the ultimate favourite races in Australia, punters wager on minor races too, such as the Railway Stakes, Prince of Wales Stakes, etc.
Unsurprisingly, bettors enjoy races that take place outside of Australia, too, so it's not uncommon to come across New Zealand's racecourses and other international racing events too.
Besides horse racing, Australians place moneyline, over/under, and exotic bets on the harness and greyhound races too.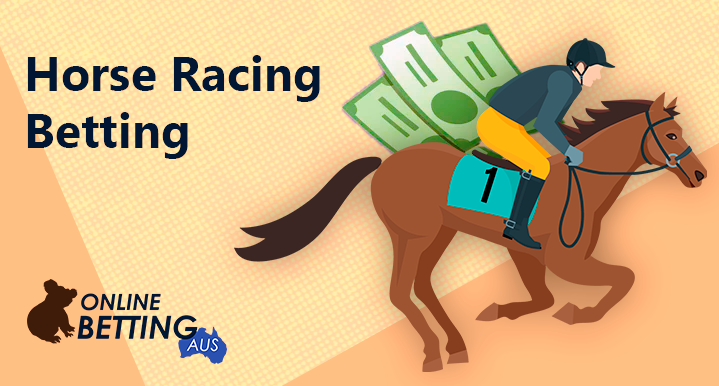 More Features of Online Betting Agencies
Additional features are the ones that make a certain site stand out from the rest of AU betting sites. Take a look at some of the features that the best betting agencies in Australia include on their sites.
Live
Live betting is a feature that is constantly sought-after by Aussie punters. This is because placing bets while a game or race is ongoing makes it even more exciting, as the odds are changing, thus altering your potential payout as well. Live streaming is possible on the best betting agencies Australia offers for punters, increasing the fun by offering free streams of numerous events and racecourses.
Cash out
The cash out feature is available at most of the bigger names on our list. This feature allows punters to agree on a smaller winning amount before the event is over, and the bet settles. This basically means getting something instead of nothing – an early payout – and there are three possible ways to do it: auto, full, and partial cash out.
Multi betting
Multi or parlay bets allow punters to include several distinctive predictions on the same slip, all related to the same race or event. For a winning multi bet, all included legs should turn out as predicted. This combination of outcomes on a single slip is possible at the best betting sites in Australia.
Stats, previews, tips
Knowledge is power, so the more you know about the horse, player or team you want to bet on, the smarter bets you'll place. The greatest online bookies offer additional information of such kind in the form of blogs or guides, where punters can read statistics, previews, tips, and other valuable information.
Promotions, offers
Australian law forbids betting sites to advertise promotions and allure players by offering welcome bonuses. However, once you register, a whole new world of promos awaits you at most of the Aussie betting sites on our list.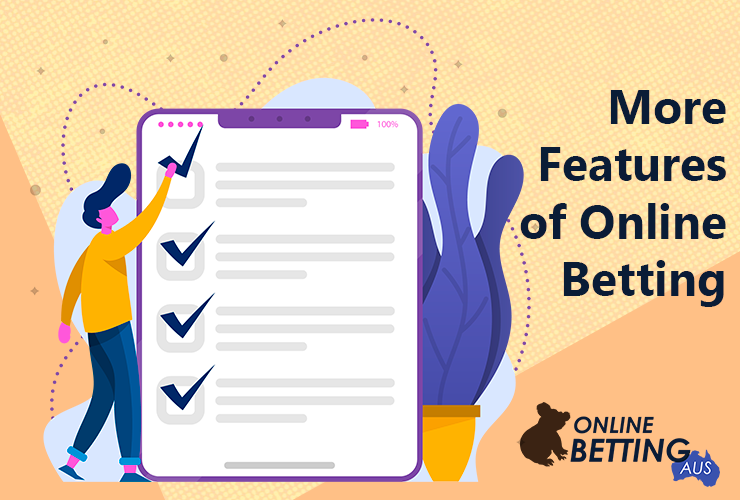 Mobile betting Sites in Australia
Mobile betting is no stranger to Australian punters, as many take to their phones to check odds, deposit funds and successfully place their bets.
All online bookmakers have adapted their sites to be used on mobile screens, incorporating all major features in the mobile browser versions of the sites too. Most of the best bookies Australia presents on mobile can be accessed via Google Chrome, Mozilla and Opera for Android users and Safari for iOS users.
Additionally, the bulk of them has also developed dedicated mobile betting apps, allowing speedy deposit and withdrawals, the intuitive placing of bets and a full user experience for all Android and iOS users who prefer playing on the go.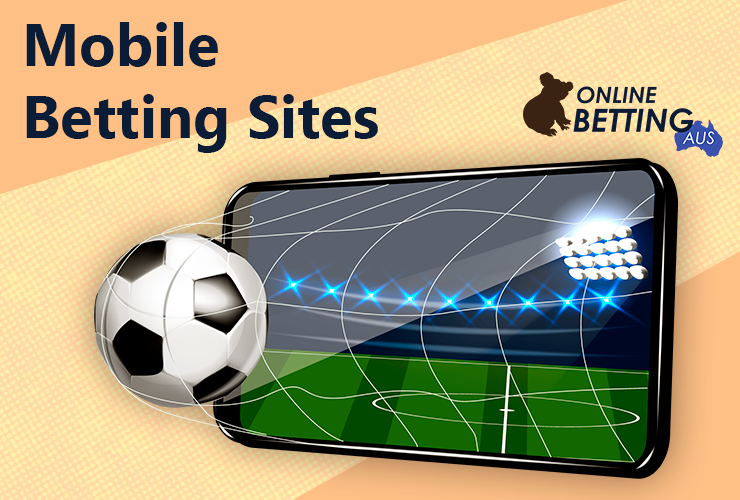 New Australian Betting Sites
Some strict Australian laws related to registering and operating a betting agency prevent potential bookies from joining the industry. However, maybe not as many as you'd expect, but new Australian betting sites are constantly joining the market.
Placing bets at new betting sites has its perks – most of the newly arrived exhibit a different approach to betting, often portraying features or markets that can't be found anywhere else. For example, new sites frequently offer attractive promos and free bets that veterans often tend to overlook.
Features like live streaming are increasingly present on new betting sites; the odds they present are often competitive and higher, and customer care is elevated to the next level.
Last but not least, new sites tend to broaden the spectrum of markets, emphasising the less commonly found ones at older sites, such as esports or fantasy betting, to name a few.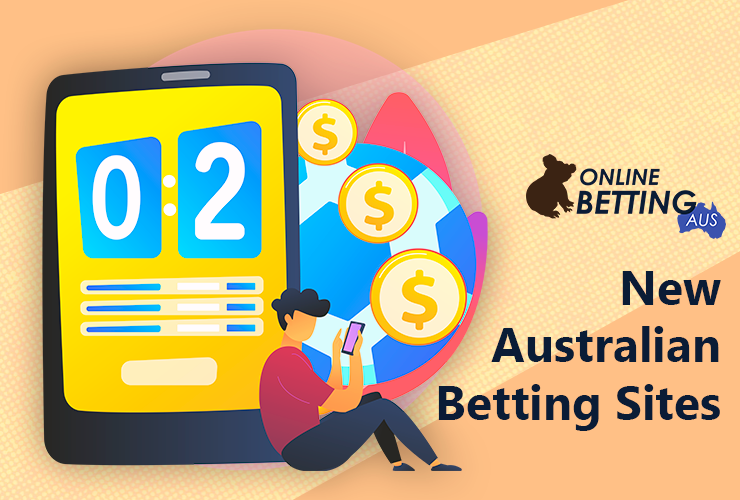 How to Find a Reliable Bookmaker
Despite having discussed the criteria that a bookmaker has to fulfil to be considered steadfast, here are some key points to consider in order to successfully find a reliable bookmaker that suits your needs.
The site must be licensed by an approved regulatory Australian body, such as the Northern Territory Gambling Commission.
It should use the latest technology for encrypting sensitive data of all its users and protect their transactions by the latest standards.
It should present trustworthy payment methods, fast verification and simple withdrawal procedures.
It should present a variety of markets and highly competitive odds for all major events.
Customer support should be responsive, on-point, and offer solutions to your questions.
It is a big plus if the site offers special features such as multi bets, live streams and in-play betting, head-to-head markets, etc.
Consult credible and reliable sources to help you in your search, such as our site OnlineBettingAUS.com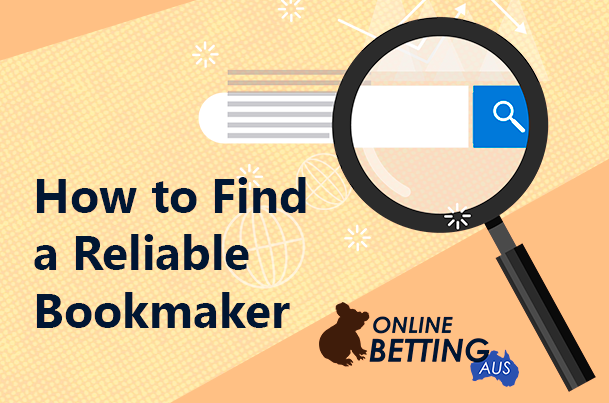 What kinds of bonuses are offered by betting sites?
Bonuses do exist on the promo pages of most Aussie betting sites, but they are usually only visible to registered players. This is because the IGA doesn't allow advertising of any incentives intended for sports bettors.
Our team will give you an overview of the sports bonuses you can get at the best bookies Australia after you register an account.
Welcome Offers
These bonuses are present at most sites but are only accessed and obtainable after registering an account with the bookie of your choice.
Deposit Bonuses
These awards come after you deposit a certain amount. The deposit bonus matches your initial deposit by a certain percentage, usually giving you 50% or 100%.
Free Bets
This bonus doesn't require you to deposit any money of your own and usually comes in the form of credits from the bookie, which you can use to place a bet.
Refund bonuses
This bonus is usually rewarded to punters who were close to winning a bet but still lost it.
Enhanced odds
Bookies may occasionally offer enhanced odds for a particular event or a type of bet, such as same game multi bet, final events, etc.
Preliminary payouts
In the event of placing a bet that will most probably be won, some betting agencies allow early payouts of your potential winnings.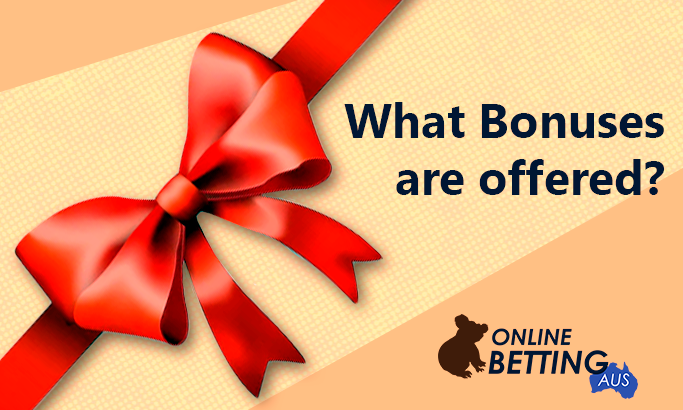 AUS Betting Laws
There are some primary rules and laws that every Australian should be aware of before placing a bet at any online bookie. Here they are:
You need to be of legal age (18+) and be a resident of Australia
All sites that provide betting services must be appropriately licensed in the country.
Live bets are only possible via phone, strictly forbidden online
It's completely prohibited to advertise any welcoming incentives for unregistered players
Sites can have distinctive imposed restrictions depending on the territory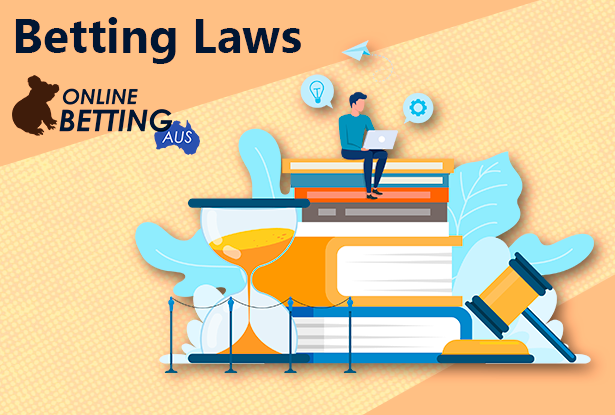 Why choose an Australian online betting site?
Choosing an Australia-based betting site will guarantee a safe betting experience in many aspects.
Australian Sports betting sites have to abide by strict rules imposed by their local government, and they also must hold a licence issued by an authoritative Australian body.
Choosing such a site will guarantee a hassle-free experience and guarantee a successful withdrawal of your potential winnings.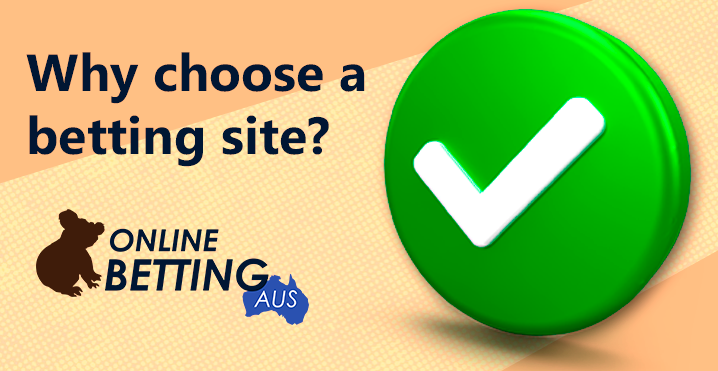 FAQ
What betting sites give you a free bet?
Free bets are only obtainable after you willingly decide to register an account and wager on a specific site. For now, some of the sites that offer free bets after registration are Neds, Ladbrokes, Betstar, PlayUp, Sportsbet etc.
How many betting sites are there?
With new betting agencies constantly popping up, we can never know the exact number of active sites. Currently, there are more than 80 Aussie betting sites legally operating in Australia.
How to make money on betting sites?
You should never indulge in sports betting activities in order to make money off of it. Winning is never guaranteed, but the best way to score a humble profit is by a technique called matched betting.
How to make money from betting sites?
Sports or race betting should never be your primary source of income. If you want to make a slight profit by betting online, follow some betting tutorials and guidelines but never spend more than you can afford to lose.
Betting sites that accept PayPal
The most reputable sites that include PayPal in their list of payment options are PalmerBet, Betfair, Unibet, Bet365, Ladbrokes, Betstar, and others.
What betting sites give a live vision of sports?
Live streaming is a very popular feature among online bookmakers, but it isn't available everywhere. Some of the best betting agencies Australia has, with live streams available, are Bet365, Unibet, Sportsbet, and Picklebet.
Which betting sites do cash out?
The cash-out feature enables punters to get some of their winnings before the competition they have placed the bet on is finished. Sites that offer this feature are BlueBet, Bet365, PlayUp, DraftStars, and others.