Caulfield Cup 2023
The Caulfield Cup is among the most popular horse racing events in Australia, attracting the attention of thousands of spectators and bettors mainly because it is the perfect lead-up race to the long-awaited Melbourne Cup.
The Caulfield Cup is a 2400m-long race on a turf course called Caulfield Racecourse, which takes place in October each year.
The Caulfield Cup day reserved for 2023 is Saturday, the 21 of October. Last year, the victory was taken home by Incentivise, which was saddled by Bret Prebble and trained by Peter Moody.
Get all the crucial info about this utterly popular race in our Caulfield Cup review 2023.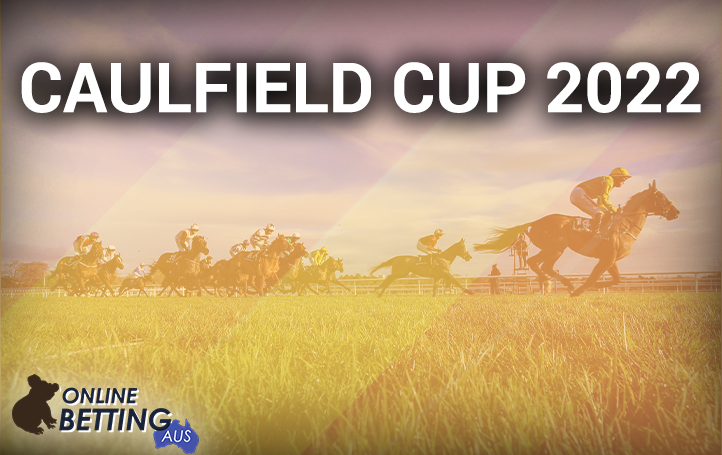 Caulfield Cup Essential Info
| | |
| --- | --- |
| Date | 21 October 2023; Saturday |
| Racing Time | To Be Confirmed |
| Racetrack | Caulfield Racecourse |
| Caulfield Cup Distance | 2400 metres |
| Conditions | Handicap |
| Level | Group 1 |
| Prize Pool | AU$5,000,000 |
| Winner of 2021 | Incentivise |
| Track Conditions | Turf |
| Track Direction | Counterclockwise (Left Handed) |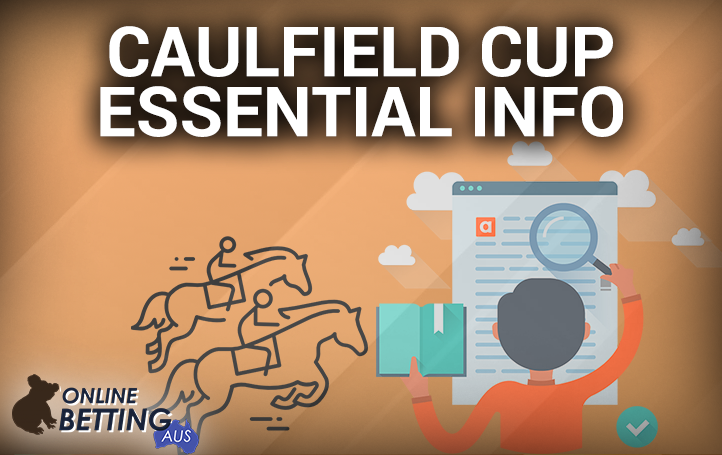 What is the Caulfield Cup in Australia
The horse racing Caulfield Cup event is part of the 'Big 3' horse races in Australia, along with the Cox Plate which takes place approximately a week after it, on the Moonee Valley, and the Melbourne Cup Carnival held in November.
This race is the main lead-up race that initiates the gradual excitement of punters and spectators until the final 2-day Spring Racing Carnival organised by the Melbourne Cup Racing Club.
The Caulfield Cup is a race run at a distance of 2400 metres, and it belongs to the handicap Group 1 races with a prize pool of AU$5 million. Since it's the main lead-up to the Melbourne Cup, this race hosts many familiar names among the jockeys and horses, and the winner is automatically eligible to participate in the Melbourne Cup.
This Group 1 race wasn't always classified as such; up until 1978, it was graded as a Principal race.
The race stands head to head with the Melbourne Cup in popularity and glory, so horse racing betting enthusiasts keep a sharp eye on the odds presented at online bookies. As October approaches, all bookies are in constant competition to provide odds and markets better than the competition.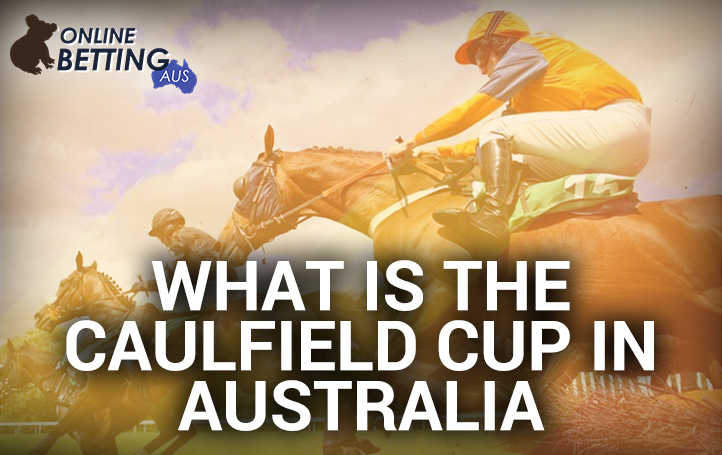 Caulfield Cup vs. Melbourne Cup
The Caulfield Cup is one of the major horse races in Australia, comprising the 'Big 3' along with the Cox Plate and Melbourne Cup. Nevertheless, even though it's watched and wagered on by many, the Melbourne Cup stays the leader in popularity and omnipresence among fans in Australia.
The race that stops the nation, as the Melbourne Cup is known, may be the most prestigious and richest event in the Australian racing scene, but precisely the Caulfield Cup plays a huge role in the expectations of the November Race. It not only provides a glimpse of what might happen in the upcoming major race, but it also serves as a final rehearsal for all stayers while also being the greatest lead-up horse race to date.
Moreover, the opportunity to achieve the Caulfield – Melbourne Cup double is among the most appreciated achievements for any thoroughbred staying horse in the land down under. Only 11 horses have achieved this double.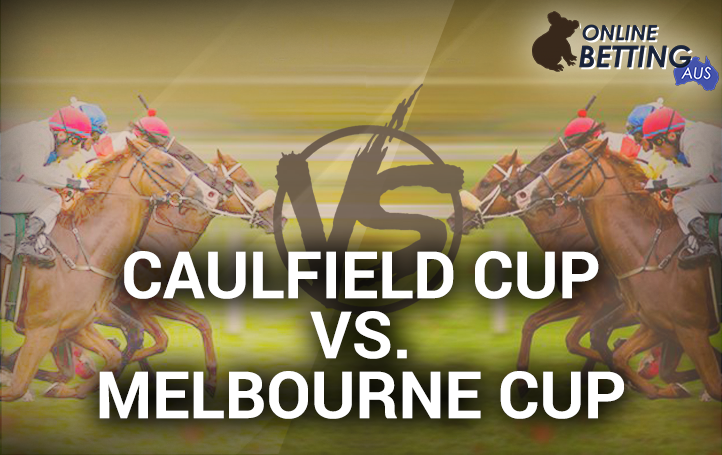 Caulfield Cup Carnival
Spectators and bettors all over Australia regularly mark their calendars for the long-awaited horse racing Caulfield Cup Carnival, which takes place on the Caulfield turf course from 14 till 21 October.
Besides the Caulfield Cup, which is the main, richest 2400 metres horse race that finalises the carnival, the other Caulfield Cup races which occur on the same day are Group 2 Caulfield Sprint (1000m), Group 2 Tristarc Stakes (1400m) and Group 3 Neds Classic (2000m).
The Carnival-opener is another major race day in Australia, well-known among horse race fans – Caulfield Guineas Day. This primary opening event takes place on the 14 of October and hosts four races belonging to Group 1, the dominant one being the Group 1 Caulfield Guineas race with a prize pool of AU$2 million.
Another major race belonging to this lucrative Carnival is Thousand Guineas Day, taking place on Wednesday, the 18th of October. The leader of the day is the 1600 metres-long Thousand Guineas, preceded by Group 3 Catanach's Blue Sapphire Stakes (1200m), Group 3 Ladies Vase (1600m), and the Ned's Group 3 Coongy Cup (2000m).
Here is a list of all the races taking place during the Carnival for better visualisation.
Caulfield Guineas Day – 14th October, October;
Thousand Guineas Day – 18th October, October;
Caulfield Cup Saturday – 21 October, October.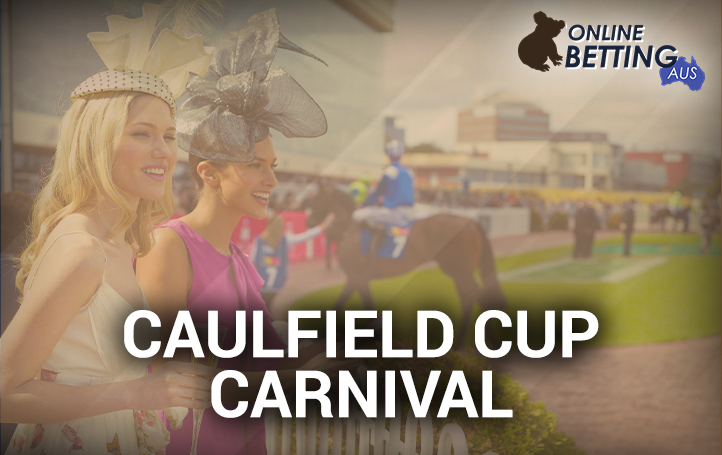 Caulfield Cup Form & Field
As it draws the attention of both local and international punters, all of them avidly anticipate the publishing of the field. When it comes to Caulfield Cups news, the announcement of the field is among the crucial ones, and it is usually published around 4 pm on 18th October, the Wednesday before the big race.
After the finalisation of the Coongy Cup, which is a ballot exemption race held on Thousand Guineas Day, the field is finally published. What's more, the barrier draw is also performed the same day, and punters are fully-equipped with the necessary information to start wagering.
Only 15 participants are published in the field, and the other four places are filled up by entries that will turn out victorious in the lead-up ballot-free races.
Check out the form, field, and all Caulfield Cup news by revisiting our page, as we will elaborate on the data once it's published.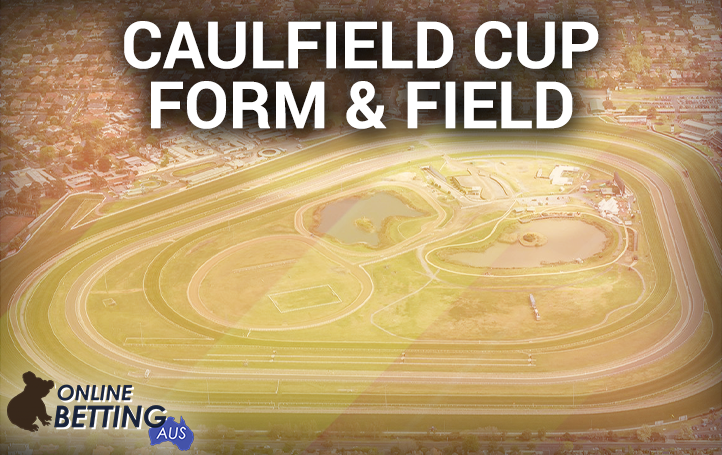 Caulfield Cup Horses
Days go by fast, and when the time comes, make sure that you come back to our OnlineBettingAUS site, as we'll provide a thorough overview and in-depth analyses of every horse participant in the race, as well as form and additional details.
After field publication, come back to this site again and read all you need to know about the horses' profiles, which is actually necessary in order to start horse racing betting.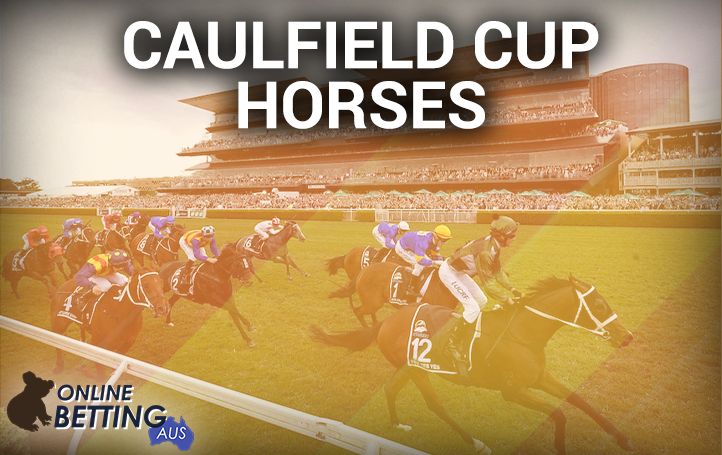 Caulfield Cup Betting
There is hardly any nation that loves wagering on a good old horse more than Aussies.
Punting is many fans' ultimate pastime activity, and carnival events bring out the punter in every horse racing enthusiast. Most of them go with single bets such as Win or Place, but some text their luck's extant with quinellas, trifectas, exactas, and other exotics.
Local TABs and online bookies provide countless horse betting opportunities for the Caulfield Cup, as well as favourable odds and markets for your preferred mounts.
To learn more about betting on this October race, check out our Caulfield Cup betting site.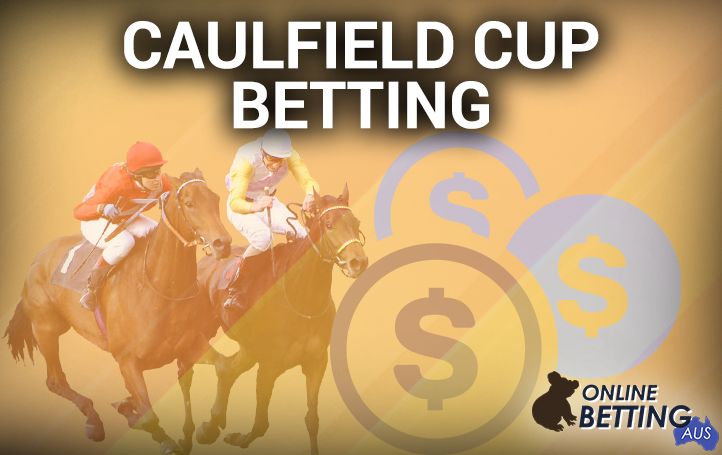 Caulfield Cup Tips
As race day comes closer, every punter, especially novices, appreciates a tip or two, with the purpose of placing smart bets and maximising profits.
Getting your hands on trustworthy tips from experts isn't always easy, and if all the data provided in the form doesn't mean much to you, a few strategies and advice would always be helpful.
We recommend checking our Caulfield Cup tips page for all the helpful guides and tips you should be equipped with before wagering on the runners.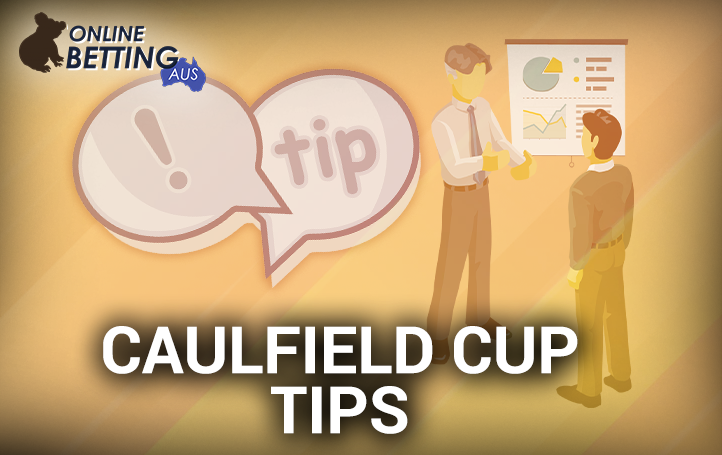 Caulfield Cup Odds
All the reputable online bookmakers offer odds on the big race, even before the field and accepted names are known. Aussies indulge in futures and early markets betting, thus taking advantage of some high odds that may fluctuate as post-time approaches.
Never rush your decision, and check out several online new betting sites before you decide where to wager. When the time comes, we will also recommend several bookies and present the best prices of mounts on our Caulfield Cup odds page, so make sure to come back on time.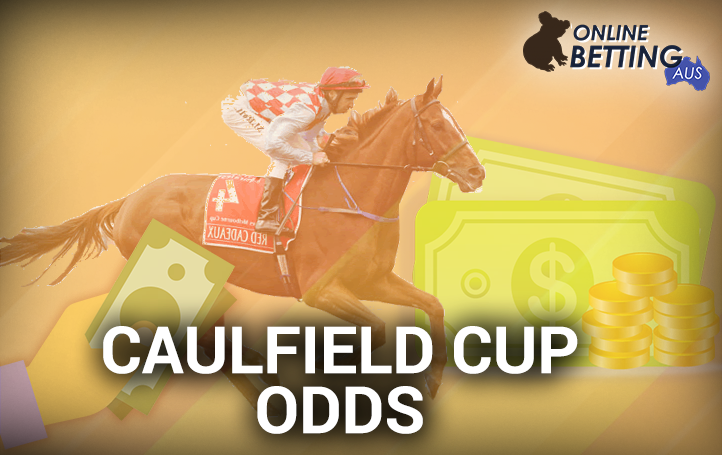 Caulfield Cup History
Every jockey, trainer, horse, and other valuable team members that have participated in the Caulfield Cup races makes up the rich history of the race, embellished by glorious victories as well as wallowing failures for some. The race was first held in 1879, and since then, it has captivated the attention of thousands of punters through the years.
How well a horse performed through the years, its past ups and downs, and other details found in the Caulfield history pages are also important to know before starting to bet on this race.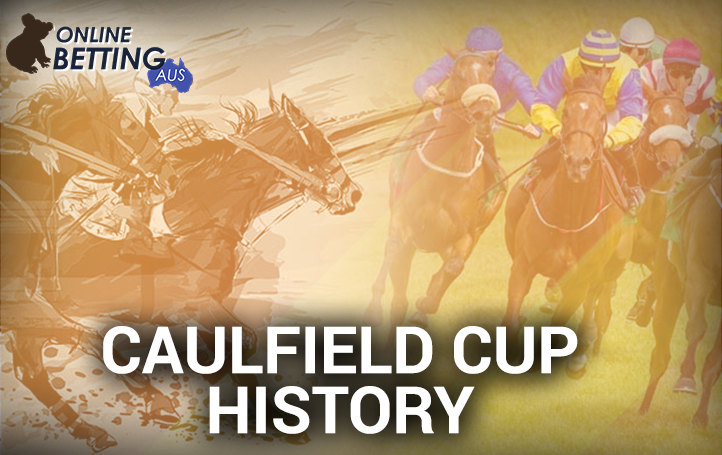 Caulfield Cup Past Winners
| Year | Winner | Age /Gender | Jockey | Trainer | Barrier | Weight | SP |
| --- | --- | --- | --- | --- | --- | --- | --- |
| 2021 | Incentivise | 5 y.o./G | Brett Prebble | Peter Moody | 20 | 55.5kg | AU$2.30 |
| 2020 | Verry Elleegant | 5 y.o./M | Mark Zahra | Chriss Weller | 8 | 55kg | AU$5 |
| 2019 | Mer de Glace | 5 y.o./H | Damien Lane | Hisashi Shimizu | 17 | 55.5kg | AU$8 |
| 2018 | Best Solution | 5 y.o./H | Pat Cosgrave | Saeed Bin Suroor | 15 | 57.5kg | AU$12 |
| 2017 | Boom Time | 6 y.o./H | Cory Parish | David and B. Hayes and T. Dabernig | 3 | 52kg | AU$51 |
| 2016 | Jameka | 4 y.o./M | Nicholas Hall | Ciaron Maher & David Eustace | 11 | 52.5kg | AU$4.3 |
| 2015 | Mongolian Khan | 4 y.o./H | Opie Bosson | M.P. Baker | 6 | 55kg | AU$5 |
| 2014 | Admire Rati | 7 y.o./H | Zac Purton | Tomoyuki Umeda | 7 | 58kg | AU$11 |
| 2013 | Fawkner | 6 y.o./G | Nicholas Hall | Robert Hickmott | 10 | 55kg | AU$11 |
| 2012 | Dunaden | 7 y.o./H | Craig Williams | Mikel Delzangles | 22 | 58kg | AU$14 |
| 2011 | Southern Speed | 4 y.o./M | Craig Williams | Leon Macdonald & Andrew Gluyas | 3 | 52.5kg | AU$10 |
| 2010 | Descarado | 4 y.o./G | Chris Munce | Gai Waterhouse | 15 | 52.5kg | AU$17 |
| 2009 | Viewed | 6 y.o./G | Brad Rawiller | Bart Cummings | 13 | 57kg | AU$13 |
How To Watch the 2023 Caulfield Cup Live
If you can't make it to the racecourse where the thrill is happening, there are multiple ways to watch the race online. The options include free broadcasting channels or pre-paid streaming platforms.
Spring Carnival Racing has been traditionally broadcast on Channel 7 for 20 years now. It's completely free, whether you stick to the TV or the 7 plus app.
Sky Racing 1, Sky Racing 2, or Sky Thoroughbred Central will show the Caulfield Cup on race day, and these are all Pay TV options. Out of these, it will most probably be Sky Racing 1.
You can take advantage of the live streaming option of the Sky Racing channel if you have an account with an online bookie that offers such a feature. That account can also be used to log into the Sky Racing Active app.
If you register for free on the Racing.com website, you can watch the race for free.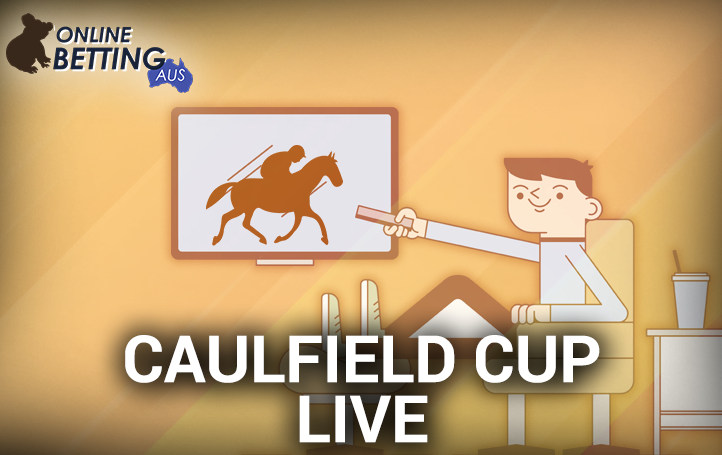 FAQ
How to bet on the Caulfield Cup?
You can buy a physical ticket at your local TAB, or you can register an account with an online bookmaker and start betting there. All you'd have to do is sign up, deposit a certain amount, find the Caulfield Cup among the events available, choose your market and place the bet.
When is the Caulfield Cup?
The Caulfield Cup date for 2023 is 21 October, Saturday. The edition that will occur this year will be the 144th, with the first Cup being organised as far back as 1879.
How to bet online for the Caulfield Cup?
If you are those who wish to skip waiting in long lines to buy tickets at a TAB, you can turn to online betting on the Caulfield Cup. Simply find a worthy bookmaker, register an account, deposit, choose the type of bet and start betting. Some notable online bookies are
Bet365
,
Sportsbet
, Ladbrokes, Palmerbet, etc.
How long is the Caulfield Cup?
The Caulfield Cup distance is 2400 metres. This length is passed by horse participants in approximately 2 minutes and 30 seconds.
Where is the 2023 Caulfield Cup?
The 2023 race will take place at the Caulfield racecourse in Melbourne on the 21 of October. This is the same day as one of Sydne's major races, The Everest.
What time is the 2023 Caulfield Cup?
The time of the race that occurs in October this year is still unknown. This depends on the other 9 races that will take place at the same course that day. Recheck our site to be informed about the exact race time when it's announced.
Who won the 2021 Caulfield Cup?
Incentivise was the horse that took the victory home in 2021, trained by Peter Moody and ridden by Brett Prebble. The two horses behind Incentivise were the Persan and Nonconformist.
What is the prize money for the Caulfield Cup?
Caulfield Cup is one of the richest world horse races that is run at a distance of 2400 metres. The prize pool of this event is AU$5,000,000.