Melbourne Cup Betting 2022
Betting on the Melbourne Cup is immensely popular throughout Australia, and both serious and occasional punters explore their possibilities throughout the year and bet on the Melbourne Cup even months before the race takes place.
This is called future betting, and it's quite common for major races like this one – soon after the running comes to a close, punters can place an early bet for the following year's Cup.
You can place physical bets at your local TAB, but Melbourne Cup online betting is central to numerous Aussie-owned and international bookmakers. They all offer competitive odds and diverse markets for the nation's biggest race; even though Win and Place are still the most common types wagered, many punters make calculations and combinations to place exotic bets such as quinella trifecta, superfecta, etc.
While you are waiting for November, we recommend you to check our OnlineBettingAUS page and get tips on Melbourne Cup betting, learn the basics of how to bet for the Melbourne Cup, and other essential information.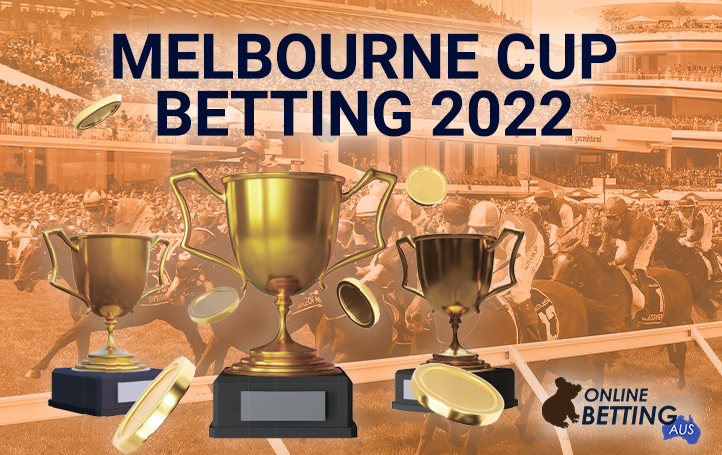 How to Place a Bet Online for the Melbourne Cup
Even though betting on Melbourne Cup can be done by buying a physical ticket, most Australian punters prefer to do it online. Thus, they can skip the long lines, traffic jams, and overly-enthusiastic bookies and contemplate at their homes in silence about who to bet on Melbourne Cup.
If you are unsure how and where to start the process of betting Melbourne Cup on any online bookmaker's site, you can check the reviews our team has prepared for you about the most reputable sports and horse racing betting sites. Some examples include Moneyball, Bet365, Unibet, Sportsbet, etc.
Let's go through the process together and show you how to place a bet on Melbourne Cup.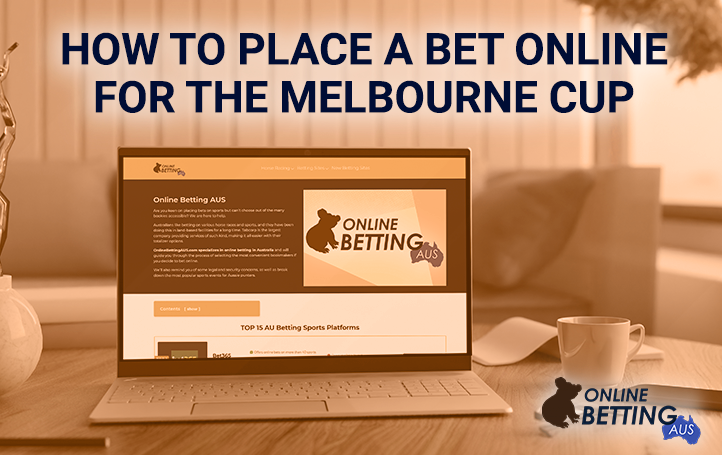 Step 1 – Select an online bookie's site
Don't rush into depositing and placing bets at the first bookie you come across. Always do your research or read our in-depth reviews about the best sports betting sites that offer Melbourne Cup bets. The most remarkable sites should offer great odds, various markets, additional betting functions, and features, but also a user-friendly site. The sites we recommend in our reviews are always easy to use and require just a few steps until you get to place a Melbourne Cup bet online.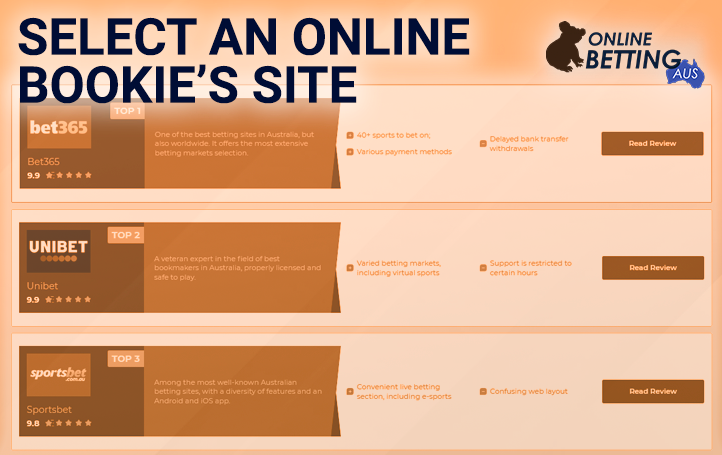 Step 2 – Register an Account
Signing up shouldn't take you more than a few minutes, and the instructions should always be clear and simple. Our recommended sites usually place their signup button in the top right corner of their homepage. Remember that you need to be at least 18 years old to register at any online betting platform and place a Melbourne Cup bet.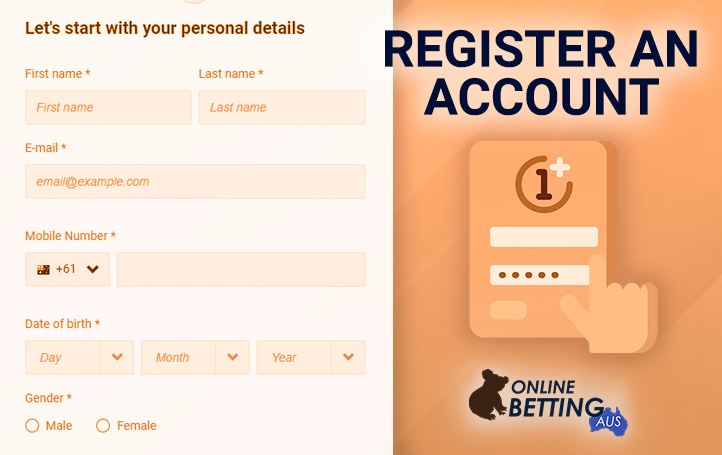 Step 3 – Deposit Funds
Depositing some money into your online betting account is a necessary step for you to be able to place a bet on Melbourne Cup online. After choosing the bookie and registering, check out their banking section and the deposit methods they offer.
A good online site should present credit/debit cards and e-wallets, but also the latest trend in payment, cryptocurrencies. Also, check the minimum and maximum deposit limits before inserting funds so that everything goes as planned.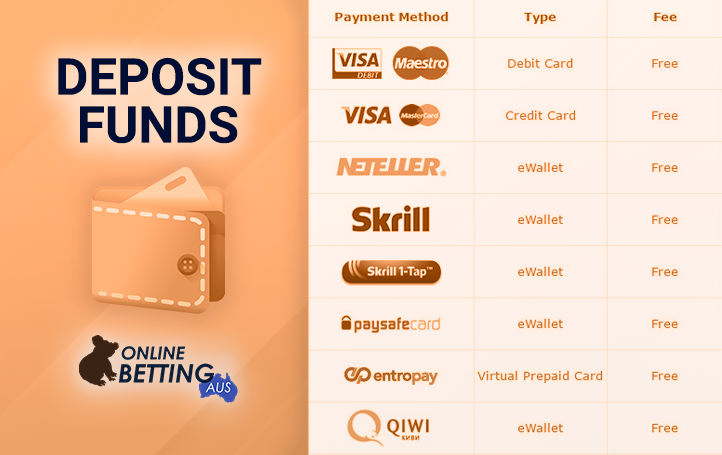 Step 4 – Place the Bet
Once you've covered all the steps, it's time to bet on Melbourne Cup online. Before you finally choose your odds and market and place your wager, we recommend you get informed about the Melbourne Cup horses, field, and tips on our site. Then, explore the markets that your betting site of choice offers, select the odds, and finally place your bet.
The most common Melbourne Cup best bets are Win, Place, and Each-Way, but most online bookies also offer exotics such as trifecta, superfecta, first four, etc.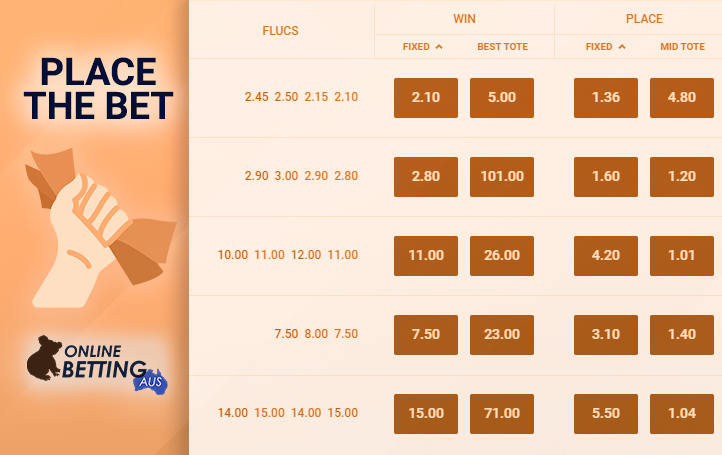 How To Bet on the Melbourne Cup through an App
Betting via a mobile app is even easier and simpler than placing a bet Melbourne Cup on your desktop setting.
First of all, you should register with a bookie that offers mobile betting via an app. Most of the bookmakers that we recommend have developed an app that suits all operating systems, and these can be downloaded usually via an APK on Android devices, and via the App store on iOS devices.
Read through our step-by-step instructions on how to bet on the Melbourne Cup via an app.
Download and install the app on your gadget.
Register an account or log in if you already have one.
Find the Cashier in the app and deposit funds to your online account.
Search for the bet online Melbourne Cup market.
Choose your type of bet and odds.
Place the bet via the mobile app.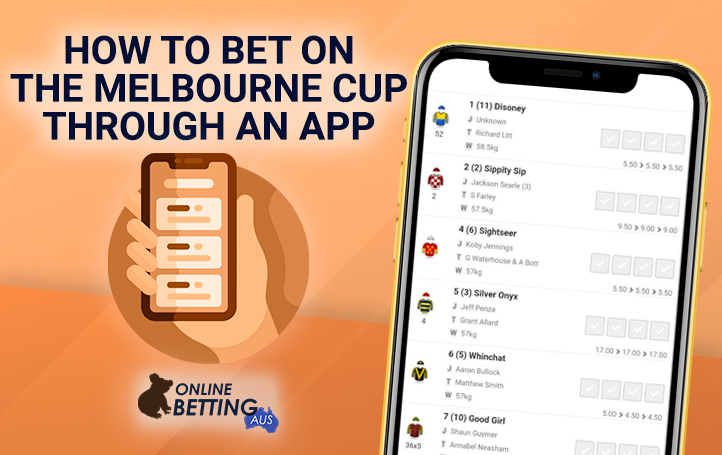 Melbourne Cup Betting Favourites 2022
Before placing your best bet on Melbourne Cup 2022, visit our site and consult the following table, which will display the betting favourites of this year, as well as the odds attached to each. You can also place a bet via our site by clicking on the odds field.
Note: coefficients will appear closer to the start of the competition.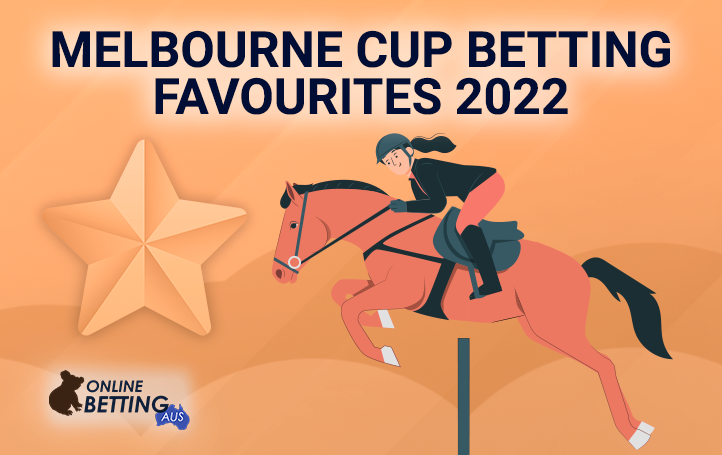 | Horse | Odds |
| --- | --- |
| Verry Elleegant | TBA |
| Incentivise | TBA |
| Profondo | TBA |
| Spanish Mission | TBA |
| Hitotsu | TBA |
| Floating Artist | TBA |
| Hosier | TBA |
| Hungry Heart | TBA |
| Montefilia | TBA |
| Degraves | TBA |
| Forgot You | TBA |
| Alegron | TBA |
| Delphi | TBA |
| Grand Promenade | TBA |
| Great House | TBA |
| Heart Of Puissance | TBA |
| Realm of Flowers | TBA |
| Sir Lucan | TBA |
| Smokin Romans | TBA |
| The Chosen One | TBA |
| Tralee Rose | TBA |
| Twilight Payment | TBA |
| Warning | TBA |
| Persan | TBA |
| Chapada | TBA |
| Elusive Express | TBA |
| Entente | TBA |
| Explosive Jack | TBA |
| Gunstock | TBA |
| Harpo Marx | TBA |
| Lunar Flare | TBA |
| Luncies | TBA |
| Mankayan | TBA |
| Master of Wine | TBA |
| Miami Bound | TBA |
| No Compromise | TBA |
| Pondus | TBA |
| Quick Thinker | TBA |
| Rondinella | TBA |
| Selino | TBA |
| She's Ideel | TBA |
| Willowy | TBA |
| Carif | TBA |
| Johnny Get Angry | TBA |
| Knights Order | TBA |
| Ocean Billy | TBA |
| Port Guillaume | TBA |
| Southern France | TBA |
Melbourne Cup Betting Strategy
In order to place the best bet on Melbourne Cup, we recommend you to follow our OnlineBettingAUS strategies that are more than helpful when it comes to horse racing betting. These will especially come in handy if you are an occasional punter who decided to test your luck on the Melbourne Cup 2022.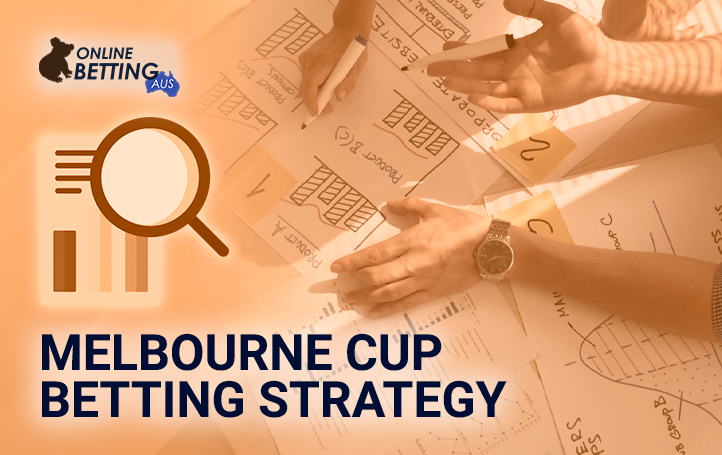 A Clear Insight into the Race and Weights
How much a horse weighs plays a huge and very crucial part of its performance in a race, especially when it comes to a handicap race such as the Melbourne Cup.
In this kind of race, horses that are considered to be better than the rest should carry more weight, thus having a handicap or a disadvantage over the others. This is so in order to ensure that all horses stand an equal chance of winning., which is only stated in theory but seldomly works in practice.
If you want to bet on the Melbourne Cup, consider the weight that your selection carries, as well as some statistical performances of similarly heavy horses. For instance, Makybe Diva is a mare that has won the Cup three times; the first one time with a weight of 52kg, the second with 55.5kg, and the third one with 58kg.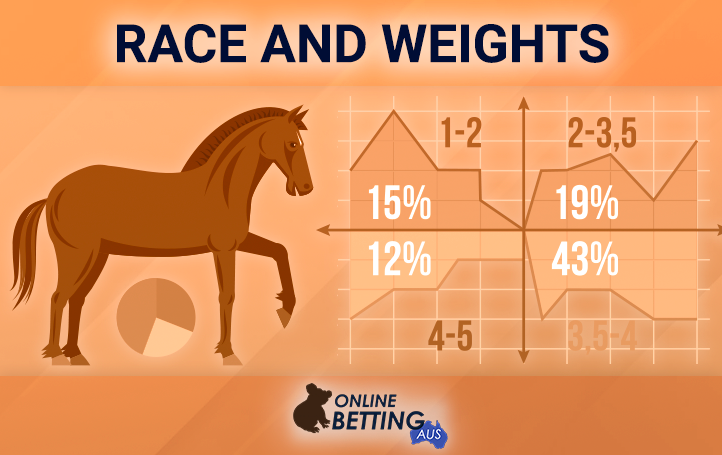 Barrier Positions
Another important factor bettors should never overlook when starting with Melbourne Cup online betting is the barrier number of runners. The barrier from where the horse jumps has a great impact on the distance they'd have to run, the ones that are closer to the outside having to run a bit further than the insiders.
For example, the three- or four- wide aren't the ideal barriers for running the race, and horses who are placed at the beginning of the lane have it the hardest because they go against all the winds at first.
A key factor to take into consideration is that 9 out of the last 12 winners of the Cup were running at barriers 1-12, while the two barriers that have taken the most horses to victory are 11 and 5.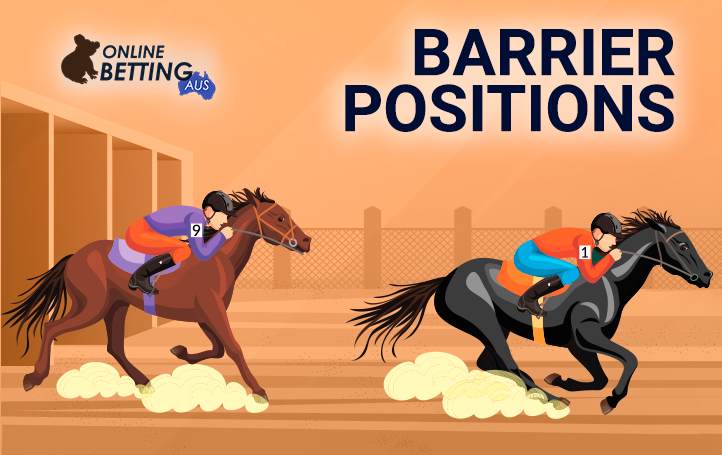 Favourite Runners
History shows that not always race favourites turn out victorious, but there are such instances. For example, when Fiorente was the market-elect to win the race and did so in 2013, which was the most recent case of a favourite winning. Prior to that, Makybe Diva won in 2004 and 2005 as a favourite, but she wasn't listed among the best when she got the victory in 2003.
When an underdog turns out the winner is surprising for many, and such was the case with Prince of Penzance in 2015 when it won the Cup at 100-1.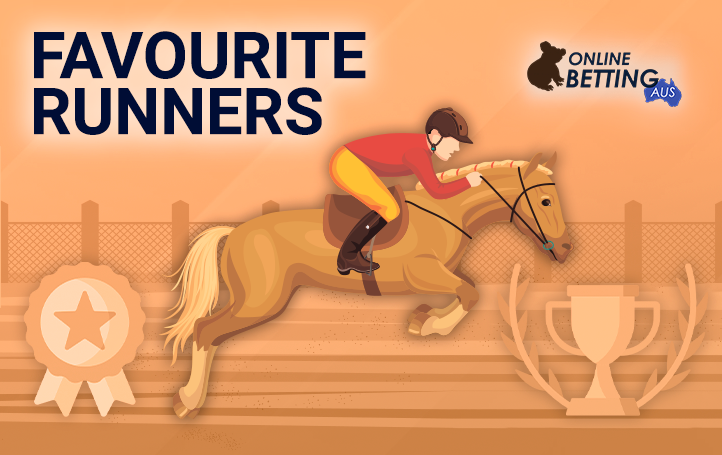 Foreign Participants
Out of the 24 horse participants in the Cup, several of them always come from abroad, mostly from Europe but also America. The challenges international horses have to go through aren't easy – they need to travel for a long time, adapt to the weather conditions in Australia, and then race in one of the biggest competitions in the world.
Nevertheless, they seem to overcome these obstacles, considering the fact that only four Australian-bred horses have won the Melbourne Cup since 2000 – Viewed (2008), Shocking (2009), Wow and Declare (2019, and Verry Elleegant (2021), who was bred in New Zealand but trained in Australia. On the other hand, eight foreign horses have secured victory in the Cup from 2000 onwards.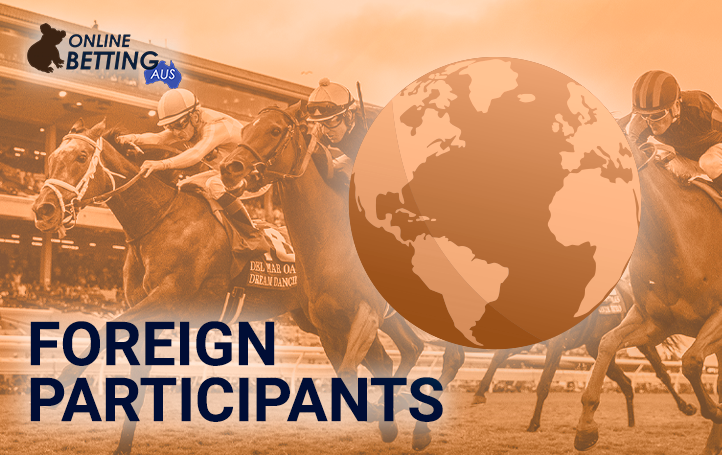 Melbourne Cup Dividends 2022
Those who bet on Melbourne Cup online are very much interested in the dividends, or the amount a horse will be paying to win or acquire a place (first, second and third).
Since we are still months away from the big race, make sure to revisit the page of OnlineBettingAUS – we will provide all the Melbourne Cup dividends for 2022 once they are known to the public. Right after the results are known, we at OnlineBettingAUS will share with you the Interim three-state tote dividends but also the SP for all the horses who got a place.
For now, these are the only known Melbourne Cup Dividends for 2022.
Quinella: AU$18.60;
Trifecta: AU$356.10;
First Four: AU$4829.70.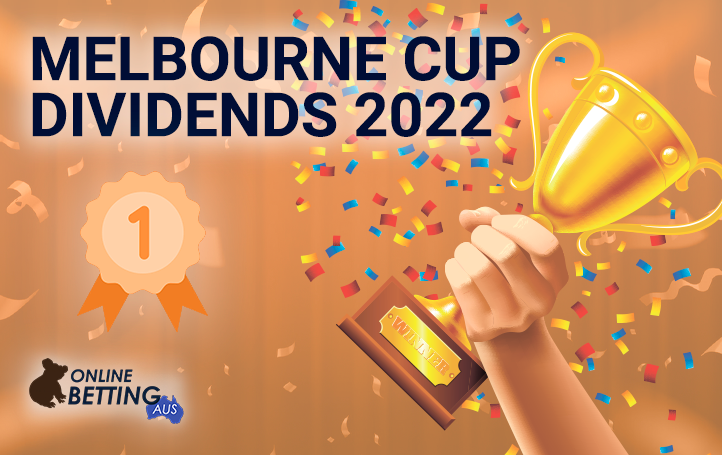 FAQ
How to bet with Moneyball?
Moneyball is a trustworthy online bookmaker that offers competitive odds and diversity of markets for placing a bet on the Melbourne Cup. Aussie punters should visit their official site, sign up with an account, deposit some funds to their online betting account, and then find the Melbourne Cup, among other events. Then, decide on the type of bet, click the odds and place it.
How to bet on the Melbourne Cup?
There are several ways to start betting on Melbourne Cup. The first one is to visit your local TAB and buy a physical ticket. Then, you can do it online on the site of reputable Australian bookmakers or via their mobile app. The last one is, of course, visiting the track and betting via the course bookies.
Who to bet on Melbourne Cup?
The presently favourite for the Melbourne 2022 Cup is Incentivise, and you can place an early bet on her online. For more upcoming tips, advice, and field information, we recommend you to visit our site from time to time as the race approaches.
Where can I place a bet on the Melbourne Cup?
You can bet via your local TAB with a physical bet slip, but the best way is to choose Melbourne Cup online betting. This is because you won't have to wait in queues and talk to persistent bookies, and everything can be done from your desktop or mobile in a few simple steps.
How to place a bet on the Melbourne Cup online?
The easiest way to place a Melbourne Cup bet is definitely online. Start by choosing a suitable and trustworthy bookmaker and register an account. Then, deposit some money into your account and start exploring the markets and odds for the Cup. After that, click on the odds, and a virtual bet slip will appear, including a button that says '
Place Bet
.'
How does betting work for the Melbourne Cup?
Betting for the Melbourne Cup works just as normally as betting on any other race, the difference being that much more punters are involved here. That's why we constantly recommend betting online on one of the bookmakers we recommend, which is the easiest way to place Melbourne Cup best bets
How To Bet Each Way on the Melbourne Cup?
An Each-Way bet is a single bet you can place, and also among the simplest there are, which is why it is the top choice of many Aussie punters. If you place an Each-Way bet, you are betting on a horse for which you are unsure whether it will win, so you get paid if it finishes up in 1st, 2nd, and 3rd place.