Caulfield Cup Betting 2023
While punters are still celebrating or criticising for backing up their runner of choice, the early Caulfield Cup betting market is already in the making.
Just a few days after the race, bettors can place their early Caulfield Cup bets related to the next year's race. Once the 12 starters are known, which is the week before the final race takes place, that's when field betting starts.
Caulfield Cup betting in Australia is extremely popular, and not only on this particular race. Bettors take it to online bookies or their local TABs to find competitive odds and start placing standard or exotic bets.
The whole world of betting and understanding the various types of wagers you can place might be puzzling at times. Follow our betting guide and learn how to place smart bets on the Caulfield Cup with us.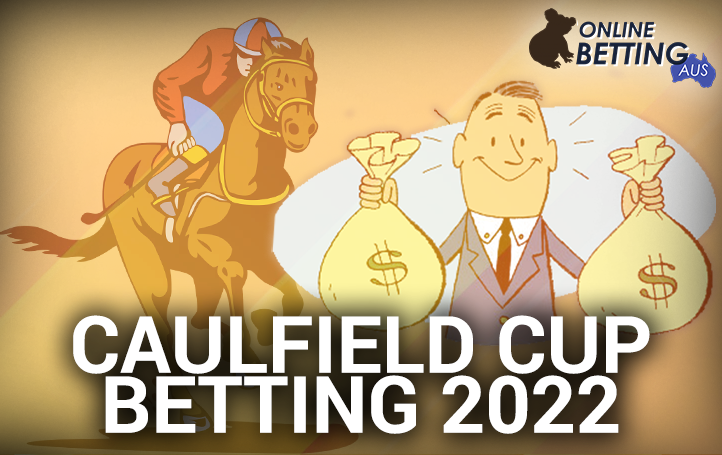 How to bet on the Caulfield Cup?
Living in the era of technology, Caulfield Cup online betting is undoubtedly the best way to wager on your selected mounts, regardless of whether you do it via desktop or mobile. This way, you avoid the long waiting lines at shops, face the risk of losing the ticket until race day, and also occasionally have to deal with too stubborn bookmakers.
That's why we recommend some of the best online bookmakers where you can safely register and place bets on whichever market you choose. Websites like Bet365, Ladbrokes, Palmerbet, Unibet, and Sportsbet all offer a diversity of markets and provide the best of three totes and also starting prices which automatically assure more potential profit for you in comparison with the dividend of the TABs.
If you are still contemplating the type of bet to go for, visit one of the Caulfield Cup bookies we recommend and search through their betting options. The most popular types of bets punters go with regarding this race are Win, Place, or Each-Way, but risk-takers also go for exotics such as exacta, trifecta, and even superfecta.
We have done part of the research for you, and if you are among those who need more detailed information on the odds, you can always consult our Caulfield Cup odds page.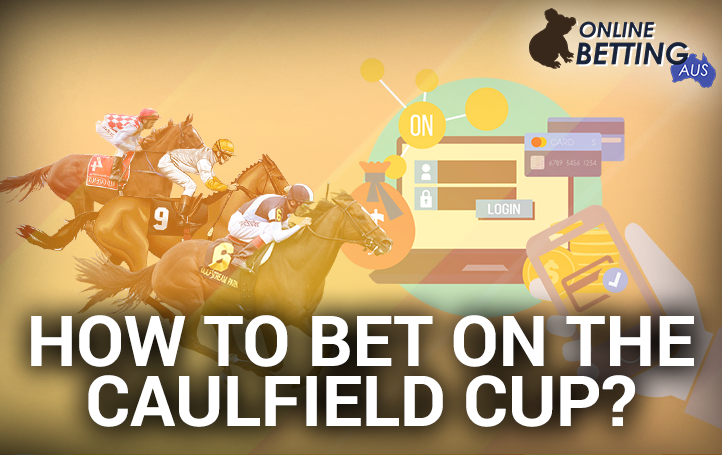 Caulfield Cup Betting Steps
In this paragraph, we'll go over the Caulfield Cup betting process and the steps you need to take in order to place a bet successfully.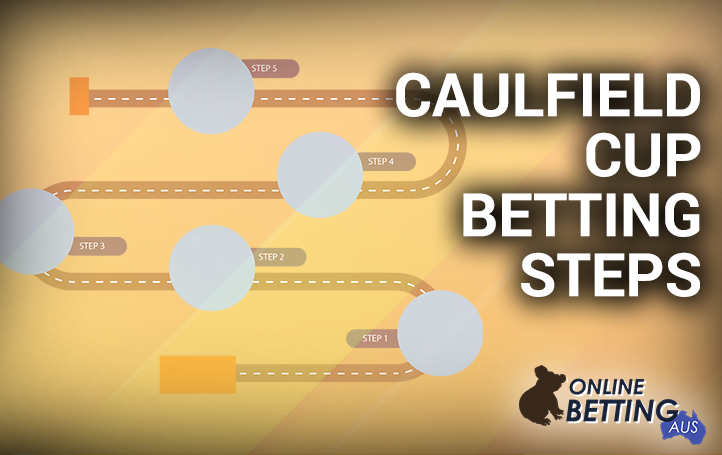 Step 1 – Select an Online Bookie
Always go for a trustworthy and secure bookmaker. All of the websites that we rank, rate, and recommend offer favourable odds, unique features, and additional fantastic deals for registered players. Picking the right bookie is a vital step toward placing rational bets on Caulfield Cup.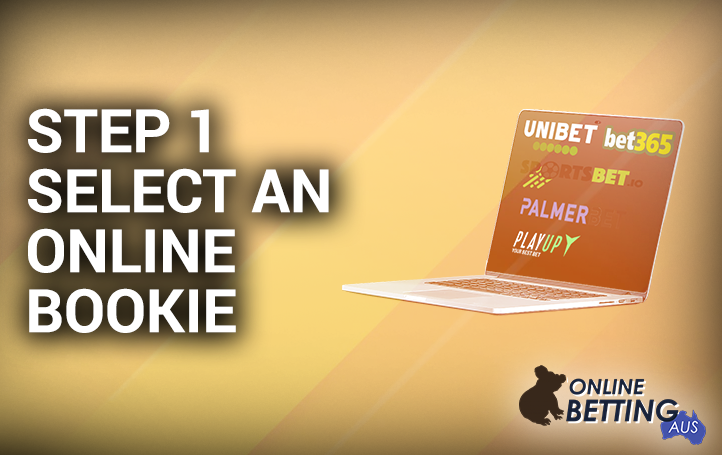 Step 2 – Register an Account
Registering an account on one of our suggested bookies is quite simple. You should just find a 'Register, 'Join,' or 'Sign Up' button, usually on top of the homepage, and go through the procedure. Setting up an online account shouldn't be longer than a few minutes.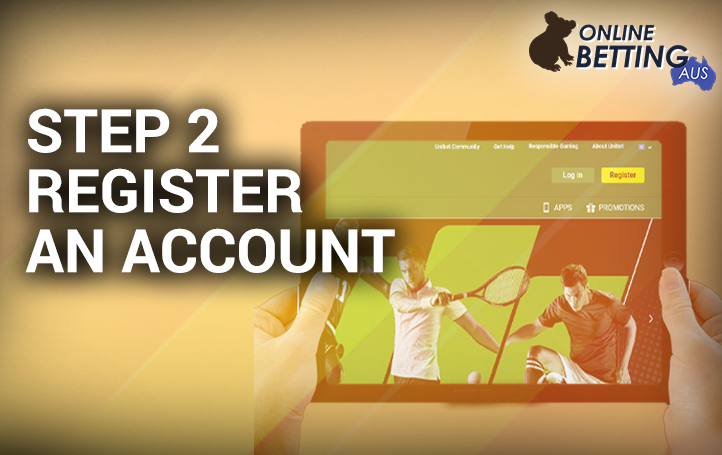 Step 3 – Deposit Funds
In order to start the Caulfield Cup placing bets process, you first need to deposit certain funds to your account. This is done via the Cashier by selecting one of the provided payment methods. Most sites on our recommendation list present a diversity of banking options such as debit/credit cards, e-wallets, pre-paid vouchers, and cryptocurrencies.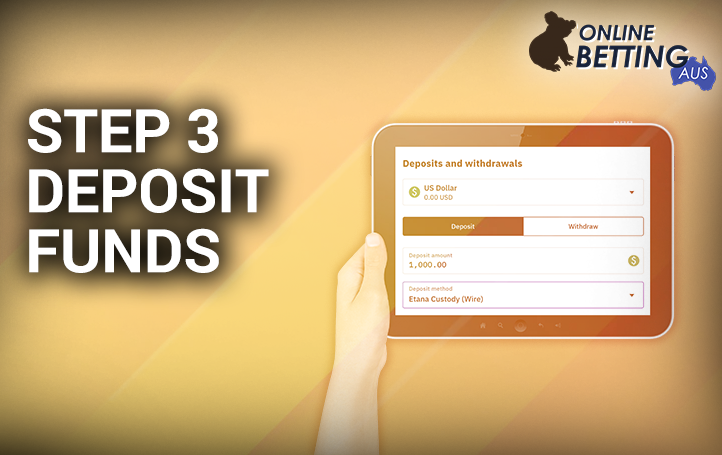 Step 4 – Place bets on Caulfield Cup
It's time for the exciting part – betting on Caulfield Cup. Before deciding on the market, check our odds and Caulfield Cup tips page, and then go back to the bookie to see which of the odds presented there are the best for you.
Current Caulfield Cup Betting 2023 Odds
Real money Caulfield Cup betting Australia starts after the official nominations, and all the acceptance races are scheduled, somewhere from the middle of the year in August 2023. In spite of this, the early markets are open almost throughout the whole year, and you can get a higher price if you choose to bet early.
Since the official nominations aren't announced yet, we will publish the correspondent odds in the near future. Don't forget to come back and check the general odds for your favourite mount.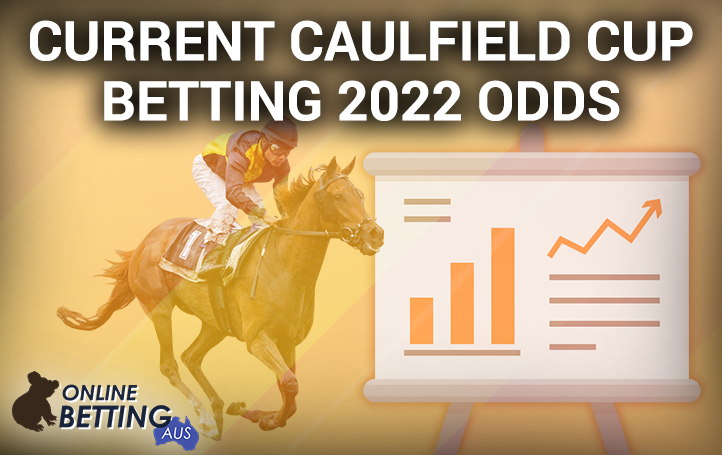 | Runner | Odds |
| --- | --- |
| Incentivise | TBA |
| Anamoe | TBA |
| Verry Elleegant | TBA |
| Profondo | TBA |
| Nonconformist | TBA |
| Colette | TBA |
| Hungry Heart | TBA |
| Montefilla | TBA |
| Young Werther | TBA |
| Floating Artist | TBA |
| Hitotsu | TBA |
| Hosier | TBA |
| Persan | TBA |
| Delphi | TBA |
| Duais | TBA |
| Entente | TBA |
| Grand Promenade | TBA |
| Great House | TBA |
| Luncies | TBA |
| Mr Brightside | TBA |
| Realm of Flowers | TBA |
| The Chosen One | TBA |
| Tralee Rose | TBA |
| Warning | TBA |
| Alegron | TBA |
| Explosive Jack | TBA |
| Forgot You | TBA |
| Gunstock | TBA |
| Pondus | TBA |
| She's Ideel | TBA |
| Barb Raider | TBA |
| Benaud | TBA |
| Chapada | TBA |
| Defibrillate | TBA |
| El Patroness | TBA |
| Elusive Express | TBA |
| Harpo Marx | TBA |
| Hasta La War | TBA |
| Kapalua Sunset | TBA |
| No Compromise | TBA |
| Sheraz | TBA |
| Yearning | TBA |
| Zayrek | TBA |
| Selino | TBA |
| Cru Classe | TBA |
| Charms Star | TBA |
| High Emocean | TBA |
| Ocean Billy | TBA |
| Port Guillaume | TBA |
Different Betting Types for Caulfield Cup 2023
Betting Caulfield Cup types differ in several aspects. They are generally divided into standard or exotic bets. The type of bet you place mostly depends on how knowledgeable you are in the topic.
However, regardless of whether you are a veteran in the field or you are just starting to dabble in the betting world, there surely is a type of bet for you.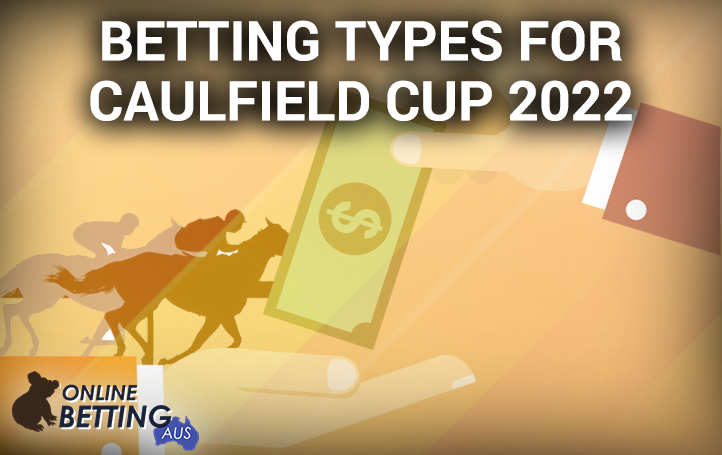 | Bet Type | Explanation |
| --- | --- |
| Win | Your selected horse must win the race |
| Place | Your selected horse must end the race 1st or 2nd. |
| Show | Your selected runner must end the race 1st, 2nd, or 3rd. |
| Each-Way | As if placing two bets, a combination of win and place. |
| Quinella | You include two horses that must finish the race 1st and 2nd, order not specified. |
| Exacta | You include two horses that must end the race 1st and 2nd by specifying the correct order. |
| Trifecta | You include two horses that must end the race 1st, 2nd, and 3rd, by specifying the right order. |
| Superfecta | You include two horses that must end the race 1st, 2nd, 3rd, and 4th, by specifying the proper order. |
| Daily Double | Your selected horses need to win two successive races. |
| Pick 4 | Your selected horses must win four successive races. |
| Future Betting / Fixed odds | As opposed to tote betting, these odds don't fluctuate and don't change depending on the amount wagered by punters prior to the race. Fixed payout. |
| Multi | Multiple combinations of several horses from different races |
Online-BettingAUS Caulfield Cup Betting Guide
All of you who still have some struggles and need clarifications on Caulfield Cup betting in Australia can always consult our page, where, as we speak, we are tailoring an all-inclusive betting guide for all our fellow readers.
In the meantime, check out our Caulfield Cup tips page and start placing bets on this year's exciting races.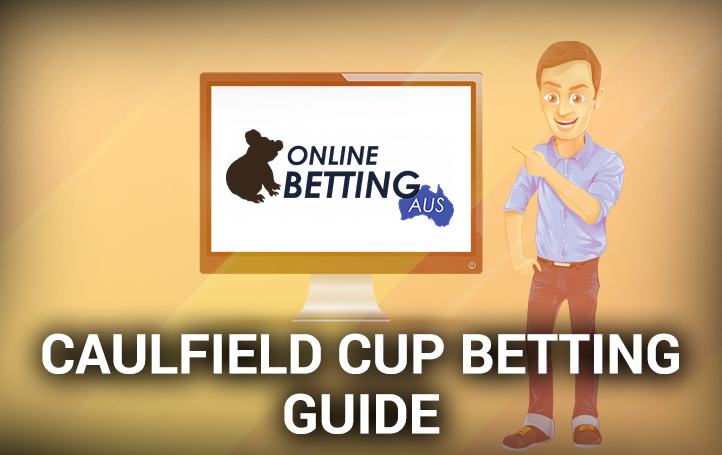 FAQ
How to bet on the Caulfield Cup?
Placing bets on Caulfield Cup is possible by visiting your nearby TAB or doing it online on a bookie's website via your desktop computer or mobile device. If you decide to do it online, we suggest signing up for any of the online bookies that we recommend – Bet365, Unibet, Sportsbet, Palmerbet, or Ladbrokes.
Who to bet on Caulfield Cup?
As there is much time until October, it's still not easy to recommend a selection you should bet on. When the time comes, do your own research or visit our Caulfield Cup tips site and check our recommendations. Currently, you can place an early bet on Incentivise, which is a 2023's race favourite.
Where can I place a bet on the Caulfield Cup?
You go and buy a physical ticket from a TAB nearby, or you can do it online on any of the bookies that we have suggested for you. The easier option is to do it from the cosiness of your own home – just register an account, deposit, and place your online bets.
How to place a bet on the Caulfield Cup online?
Caulfield Cup online betting is very easy on any of the sites that we suggest. Online bookies like Bet365, Palmerbet, Unibet, and others require visitors to register an account in order to place bets. After signing up, players from Australia need to deposit some funds to their online account and then search for the Caulfield Cup. Then, choose the odds and the market, and finally place your bet.
How does betting work for the Caulfield Cup?
Caulfield Cup betting works just as simple as betting on any other race, the only difference being that here the punters who wager and contribute to the prize pool are much larger than in any other ordinary race. That's why it's vital to carefully select which online sports
betting site
you'll wager your money on.
How to bet a trifecta on the Caulfield Cup?
The trifecta bet is placed by those who are professionals in the punting field since it's a bit difficult to predict it right. However, if you do, quite a bountiful payout awaits you. In order to win a trifecta, you must correctly guess the first three horses that will finish the race first in the correct order.
How does each way bet work on Caulfield Cup?
Each-way betting works as a safety net regarding betting because bettors usually place it when they aren't precisely sure which horse would win. Each-way, in a way, connects Win and Place, and you'd have to pick a horse that would simply finish in the top 3 places without specifying the particular place per se.
How much should I bet on the Caulfield Cup?
It depends on how much you can afford. Always dedicate a certain amount of money to betting and never overturn it. Don't try to chase losses; bet smart and responsibly. That way, you'll maximise winning opportunities and minimise risks.