Greyhound Racing Betting Sites in Australia
Watching dog races is a vintage hobby of Australians, and although not as widespread as horse racing, betting on greyhound racing is hugely popular among Aussie punters.
Out of the 15% of Australians that regularly bet on sports or races, a great portion of them choose to start greyhound racing betting. The excitement of having no human rider or driver involved in the process, as well as the speedy runners on the track, make punters consult the greyhound forms and wager on their selections, and many of them choose to do it on online betting sites.
Keep reading to discover all the bits and pieces of greyhound betting in Australia.
How do we rate Australian Greyhound Racing Bookies?
Online greyhound betting is available at many Aussie-owned online bookmakers' sites, but choosing the most suitable one is always a tricky task.
So, our OnlineBettingAUS team has prepared some tips on how we rank the best betting sites for greyhound racing in Australia below.
Odds – Odds are what determine the profit that you can potentially gain from a winning bet slip, so make sure you bet on greyhound betting sites that provide high odds for the most prominent events in dog racing.
Accessible Markets – If the bookie offers greyhound racing, you can definitely bet on TAB Melbourne Cup, but the availability of other smaller markets is important too. Also, check whether you can wager on the win or place markets but also look for exotics like tricast, quinella, exacta, etc.
Design and Interface – It's vital for an online site to be user friendly and easy to navigate. Nobody wants to spend much time looking for the greyhound section and then the markets available. Contemporary bookie platforms are aware of this, so make sure you choose one that follows a simplistic, yet effective design.
Extra Features – A website that offers additional betting functions is what punters always look for. You should bet on a greyhound racing Australia site that offers features such as live streams, early cashout, informative blogs, and others.
Betting on Mobile – All the features, betting functions and markets that you have access to via the official site of a bookmaker should translate to the mobile version. If the bookie has developed an app, make sure it doesn't glitch and lag throughout your betting sessions.
Customer support – Any punter, regardless of their level of experience in betting, can come across some issues while exploring the site and its services. Customer support should be reachable 24/7 on any of the active greyhound betting sites you choose.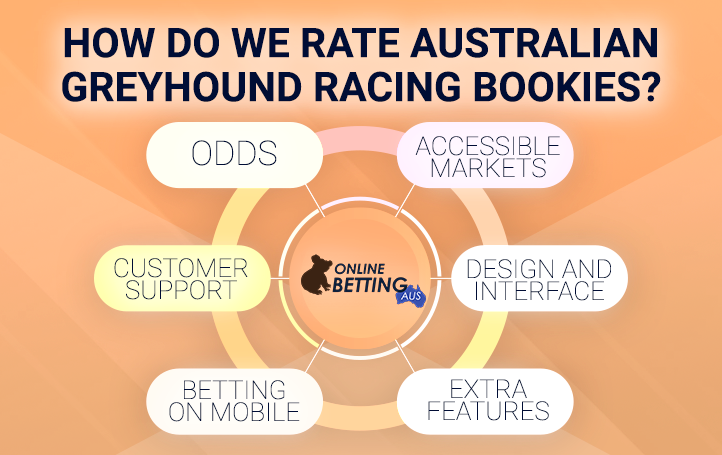 How to Win in Greyhound Betting: Our Guide
Greyhound betting Australia shouldn't be a method of making money, but every Aussie punter sure expects something in return when wagering on the dog of their choice.
Below, we provide some strategies that will serve you as guidelines to minimise your losses and maximise the potential profits gained off your bet slip.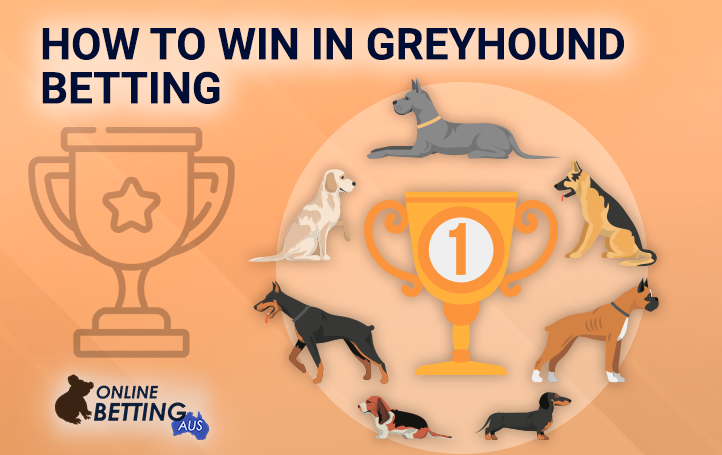 Examine the Greyhound Form
Never skip studying the performance of a previous runner, at least at their former 5 races. The greyhound form will give you substantial insight into the participants, thus eliminating the risk to back up a potential runner that often doesn't make it to the finish line.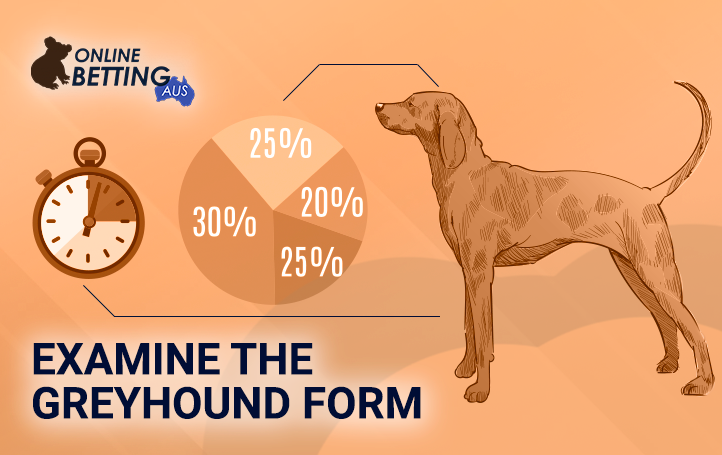 Take the Draw into Account
The draw determines the starting position or the trap from where the dog will start racing. The inside trap is regarded as the most convenient one because of the shorter distance that the runner needs to pass. Examine the positions and then decide which greyhound to back up.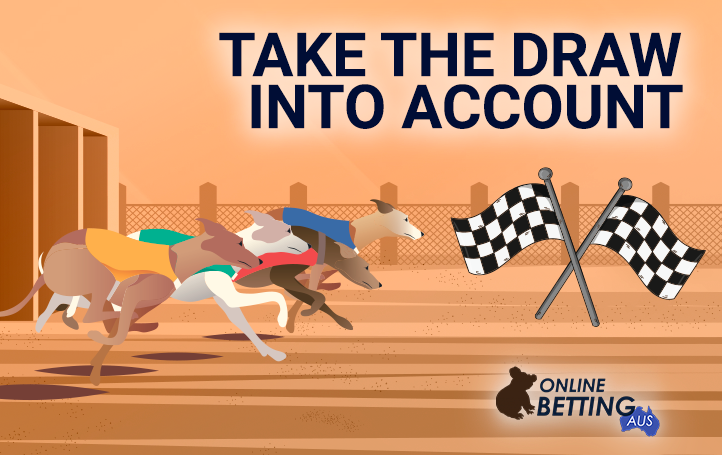 Get Info on the Trainer
If you are familiar with some names in the greyhound training industry, then you should definitely follow this greyhound betting strategy. Inspect what the trainer specialises in and how well greyhounds trained by them perform, which might sometimes be crucial for a dog's performance.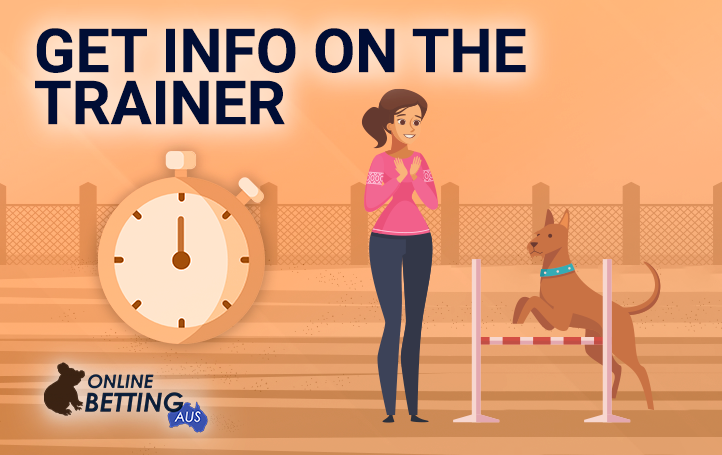 Tipsters
Getting advice from online experts is recommended, especially if you are a rookie in this. There are many tipsters who share their knowledge in the field, but be careful whose advice you are following. Make sure that the tipster is well-proclaimed and has received some positive feedback from other Aussie bettors.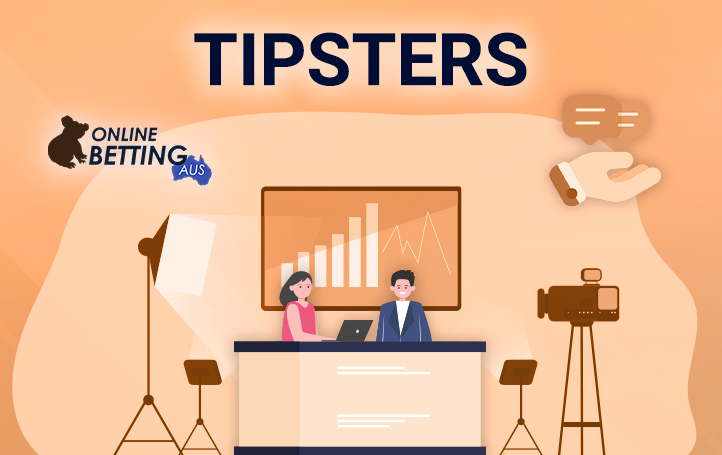 Bet Responsibly
Always remember to set up a bankroll and stick to it. Avoid chasing the lost money and bet responsibly. Only that way will you achieve balanced betting with potentially increasing profits.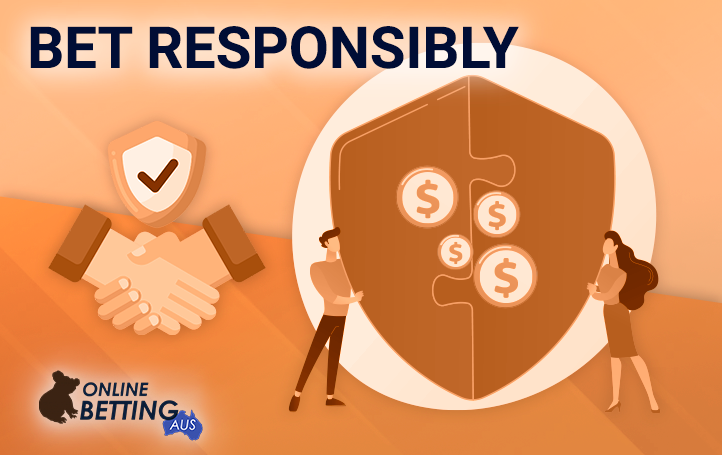 What is important in harness racing betting?
If you are thinking about starting to wager on greyhound racing in Australia, there are some elements you need to be mindful of. Take a look at some vital factors to consider before starting to bet on greyhounds.
Starter Speed. Some dogs can simply kick off faster than their competitors, so it's always a good idea to consider the early speed of the runners before placing a bet.
Strength. An advantageous starter speed isn't a favourable ability to possess if a dog cannot persevere the whole duration of the race. Stamina and strength are vital, and greyhounds who can run the distance of the race are often considered favourites.
Box Draw. Besides the starter speed, the starter position plays a huge role in the greyhound's performance as well. Some dogs perform better if they are close to the rail, but there are also those that need their wider open space a bit further towards the end of the track.
Running Approach. The perfect runner possesses the ability to adapt to its starter position, but most of them are more comfortable on a wider or a narrower track, depending on their running style.
Persistence. It may sound unexpected, but not all dogs are as tenacious and eager to win as their competitors. Study your selection throughout its past performances to see whether it shows tenacity and determination to outrun others.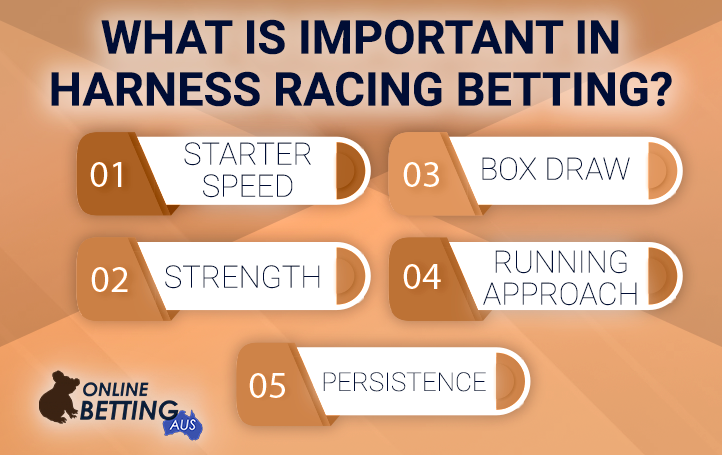 Grade. Punters should always be aware of the grade their selections belong to. Check whether your dog is now competing in a higher level race or a lower one, and contemplate your bets according to this.
Assertiveness. This is another trait that not all runners share. A competitor that didn't start off well might not be confident enough throughout the rest of the race and lose motivation for a greater result.
Trainer. A greyhound is nothing without its trainer, so get familiar with the names behind the dogs and make a wise selection. A reputable trainer will always try to push the limits of their dog.
Track Convenience. Don't miss to check in the form whether your selected greyhound is suitable for this track. Tracks are often different in several aspects, so investigate how your dog has performed on this kind of track previously.
Odds Change. Constantly monitor the prices of the dogs you'd like to bet on. It's not rare for the price to drop or rise just before the post jump.
Expert's Advice. There are countless experts in the field of greyhound racing Australia, so it's always to take on advice from a professional. Search the net and decide whose tips are with the following.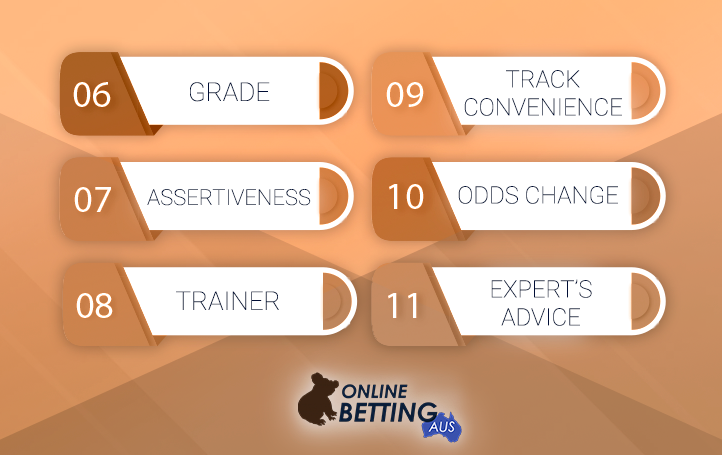 The best events for betting on dog racing
Aussie punters have the chance to bet on approximately 40,000 greyhound races throughout the year that take place on the island. Besides these, they can also bet online on international races that are held throughout the world.
Some events attract more spectators and avid punters, both to the tracks and on online bookie's sites. Here are the most popular among Australians.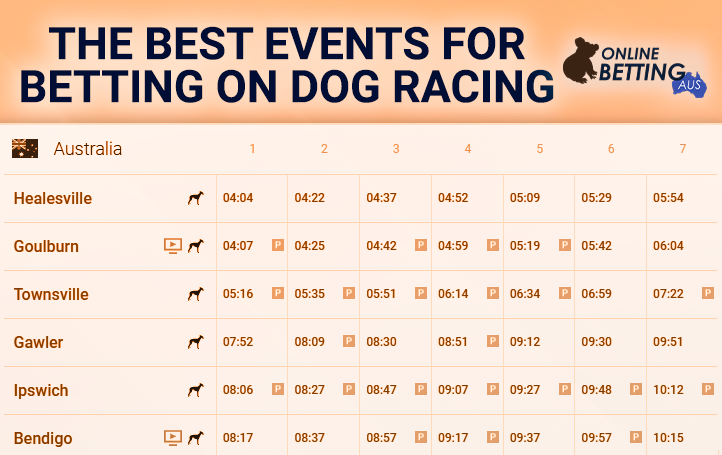 | | |
| --- | --- |
| Melbourne Cup | Having its diehard fans since its beginnings in 1956, the Melbourne Cup is probably the most popular greyhound race being held in Sandown Park. This competition is the last of the widely-known Superdogs Series. |
| Million Dollar Chase | AU$2 million is the pool of this extravagant event in the field of greyhound racing in Australia. It all started in 2018 at Wentworth Park in Sydney, and now the overall winner gets AU$1 million. |
| Australian Cup | The Meadows in Victoria is the host of this annual race of a 525m distance. The prize pool has reached AU$300,000. |
| New Zealand Cup | A popular non-Australian greyhound race is the New Zealand Cup, which took place in 2007 for the first time. It is happening at Addington Park in Christchurch, and the pool is AU$125,000. |
| English Derby | This British race started in 1927, and since then, it has been run from May to June every year. The final race is run at a distance of 500m, and the winner gets £100,000. |
| Irish Derby | Having started as far as 1932, the current location of this Derby is Shelbourne Park in Dublin. The final race is 500m long, and it takes place in September every year. |
Online vs Offline Greyhound Betting
Is it better to experience the thrill of the race right on the track or sink in your comfortable bed at home and do online betting on greyhound racing? The latter is increasing in popularity, so let's look at the pros and cons of online greyhound betting sites.
| Advantages | Disadvantages |
| --- | --- |
| Features such as live streaming | Payout might take several days. |
| Occasional promos such as free bets, boosted odds, etc. | Some struggle to bet responsibly online. |
| A variety of international and domestic markets. | No social interaction with fellow bettors. |
| Accessibility both from desktop and mobile. | |
Conclusion
Whether you are experienced with greyhound betting or you are just getting started, the best thing to do is always do your research before betting on a selection.
Check the criteria above and select the best betting site, follow our tips and strategies, and start by wagering on the most popular events in greyhound racing – only then you'll be able to start making humble profits.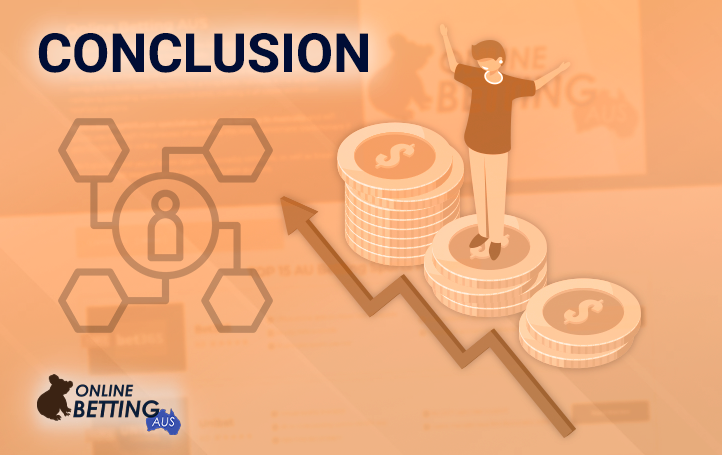 FAQ
Do all Australian bookies offer to bet on greyhound racing?
Unfortunately, no. Not all of the Australian bookmaker's sites enable betting on greyhound racing. However, there are more than enough to choose from, and some of the best ones are Bet365, Ladbrokes.au, Unibet, Betstar, etc.
What are the most popular greyhound derby betting markets?
There are thousands of races that happen both internationally and domestically. However, the most popular among Aussie bettors are the Million Dollar Chase, the Melbourne Cup, and the English Derby.
Which greyhound betting strategies should I consider?
Strategies will only help you place smarter bets, but they never bring guaranteed profits. While betting on greyhounds, always study the form, check the box draw, get familiar with the trainers behind the dogs, and most importantly – bet responsibly.
Are greyhound racing betting live streams available?
Yes, not all the online bookies offer live streams of greyhounds, but the best ones do. Watching the race brings more excitement to the process of wagering but can also give valuable insight into the participant's behaviour.