Melbourne Cup Jockeys 2023
While the central attention always falls on the horses that run the 3200m race, the Melbourne Cup jockeys play an exquisitely important role in the performance of their mounts.
Jockeys are the ones who motivate and direct the runners, and the timeline of their career, the victories they've scored, or failures they've experienced is vital information that punters should be aware of before betting on the Cup.
Bettors and spectators from Australia are already familiar with local names such as Kerrin McEvoy, Damien Oliver, and James McDonald, but foreign jockeys shouldn't be overlooked, too, as they've achieved some extraordinary results in the race that stops the nation.
Keep reading to acquire all the vital Melbourne Cup horses and jockeys information in the upcoming paragraphs.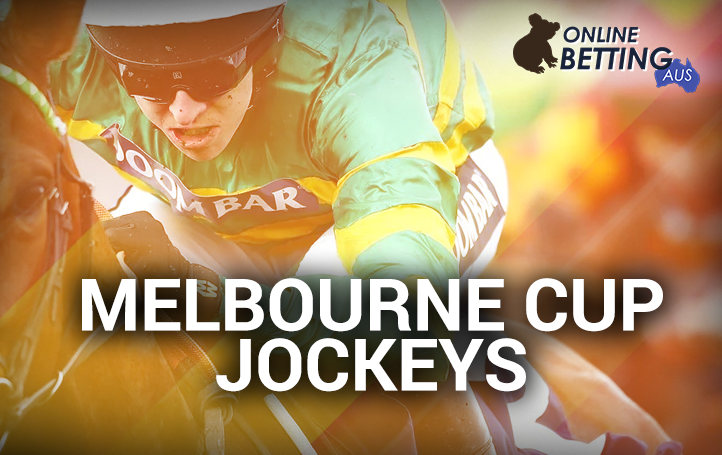 2023 Melbourne Cup Jockey Weights
The jockeys' Melbourne Cup weight is what determines the number of horses they can ride during the course of several races. Since the Melbourne Cup is a handicap race and there are strictly predetermined weights for participant mounts, jockeys tend to keep as low body weight as possible.
On a race day, there are sometimes up to 9 races that the jockeys participate in, so maintaining a slim figure is vital for riding as many mounts as possible, while also being strong and fit enough to endure the rides and also perform at their maximum best.
Races in Australia determine the jockeys' weight to start at a minimum of 53 kg, going up to around 60,61 kg at most. Consequently, most jockeys try to keep as lightweight as possible because the chances of riding any mount during race day are increased.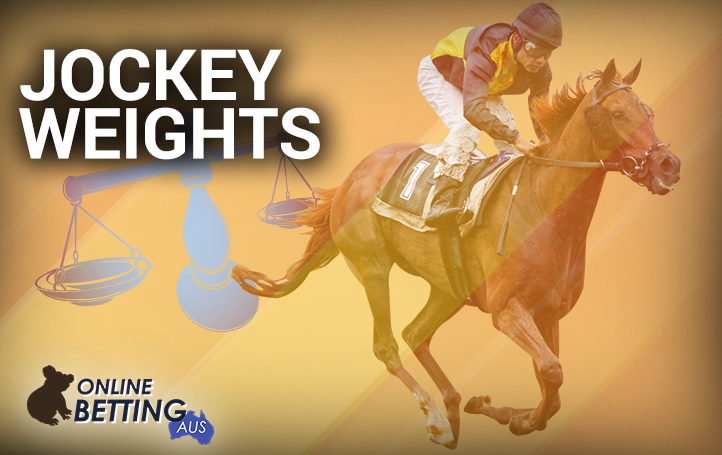 Melbourne Cup Jockeys 2021
| Horse | Gender/Age | Jockey | Barrier | Weight |
| --- | --- | --- | --- | --- |
| Twilight Payment | G/9 | Jye McNeil | 2 | 58kg |
| Incentivise | G/5 | Brett Prebble | 16 | 57kg |
| Spanish Mission | H/6 | Craig Williams | 14 | 57kg |
| Verry Elleegant | M/6 | James McDonald | 19 | 57kg |
| Explosive Jack | H/4 | John Allen | 4 | 54kg |
| The Chosen One | H/6- | Damian Lane | 5 | 54kg |
| Delphi | H/5 | Damien Oliver | 3 | 53.5kg |
| Ocean Billy | G/6 | Damien Thornton | 13 | 53.5kg |
| Selino | G/6 | Ron Stewart | 24 | 53.5kg |
| Johnny Get Angry | G/4 | Lachlan King | 22 | 53.5kg |
| Knights Orders | G/7 | Daniel Stackhouse | 9 | 53kg |
| Persan | G/5 | Luke Currie | 11 | 53kg |
| Carif | G/6 | Blaike McDougall | 8 | 52.5kg |
| Master of Wine | G/7 | Fred Kersley | 6 | 52.5kg |
| Pondus | G/6 | Rachel King | 1 | 52.5kg |
| Grand Promenade | G/6 | Kerrin McEvoy | 21 | 52kg |
| Miami Bound | M/5 | Patrick Moloney | 17 | 52kg |
| Port Guillaume | G/5 | Harry Coffey | 23 | 52kg |
| She's Ideel | M/6 | Craig Newitt | 20 | 52kg |
| SCRATCHED | / | / | 15 | / |
| Tralee Rose | M/5 | Dean Holland | 12 | 51kg |
| Floating Artist | G/6 | Teo Nugent | 10 | 50kg |
| Great House | G/5 | Michael Dee | 17 | 50kg |
| Sir Lucan | H/4 | Glen Boss | 18 | 50kg |
Jye McNeil
Coming from Victoria, Jye McNeil is famous among Melbourne Cup jockeys even though he started his career as recently as 2011. We'll probably see more of him in the upcoming years, but he still has managed to score a victory in such a short time as a jockey. He rode Twilight Payment in 2020 and got to a glorious end in the first place.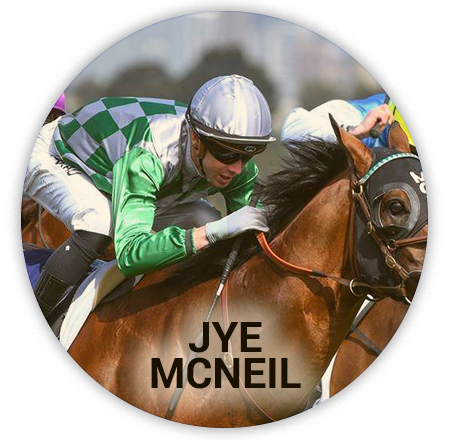 Brett Prebble
Starting his jockey career in Australia, Brett Prebble decided to move to Hong Kong in 2002 and test his skills in a foreign land. During his stay there, he managed to end up in second place in the Hong Kong Jockey Club Championship in the 2009-2010 season.
His most notable victories were the Age of Classics in 2005 and the Melbourne Cup in 2012, riding Green Moon to victory.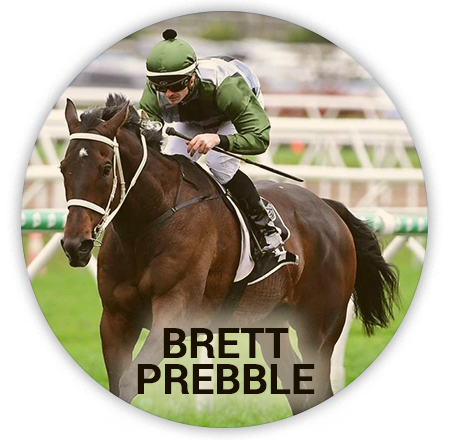 Craig Williams
Craig Williams is known for being a member of a very productive duo, along with trainer David Hayes, who together scored 14 victories in Group 1 races until 2009. After these two had gone their separate ways, Craig Williams's skills were still proven when winning the Cox Plate and many Caulfield Cups. Still, the most prestigious one was the victory at the Melbourne Cup in 2019, when he brought Vow and Declare first at the finishing line.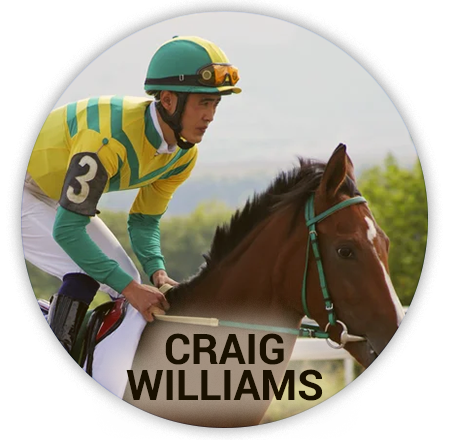 James McDonald
J-Mac is among the youngest jockeys to have participated in the Melbourne Cup, and some find it unbelievable how successful he has been. This Kiwi jockey is undoubtedly among the best in Australia, having won the Sydney Jockeys Premierships several times. He claimed a victory at the Cup in 2019 on the back of Verry Elleegant.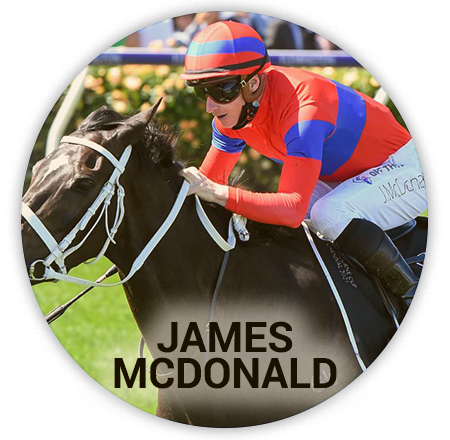 John Allen
Born and raised in Ireland, John Allen is a famous jockey that has resided in Australia since 2016. This Irish rider has led 17 horses in Group 1 races to victory and presently is in the second place in the Victoria Jockey Premiership, preceded only by Damian Lane. He has teamed up with Ciaron Maher and David Eustace stable. He still hasn't scored a victory at the Cup, so his most memorable victories are the Cox Plate and Victoria Derby.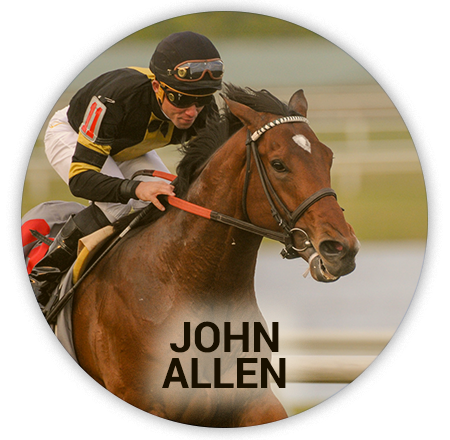 Damian Lane
Coming from Bunbury, Western Australia, Damien Lane transferred to Victoria and became one of the most recognisable names among Melbourne Cup racers. He boasts 21 Group 1 winners and is among the first names in the Melbourne Jockeys Premiership.
D-Lane's most distinguished year was 2019, the spring carnival, where he took home the victory at the Caulfield Cup on top of Mer de Glace and also the Cox Plate, riding Lys Gracieux.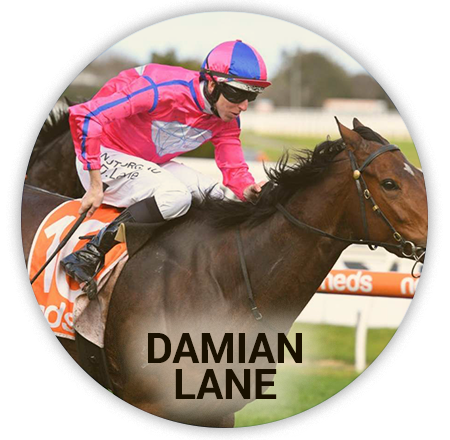 Damien Oliver
Not many Melbourne jockeys can boast of several victories in the most famous horse race in Australia, and Damien Oliver is one of the rare ones. He has won the Cup three times throughout his career, the first time being in 1995 on the back of Doriemus, the second time with Media Puzzle in 2002, and the most recent one in 2013 with Fiorente.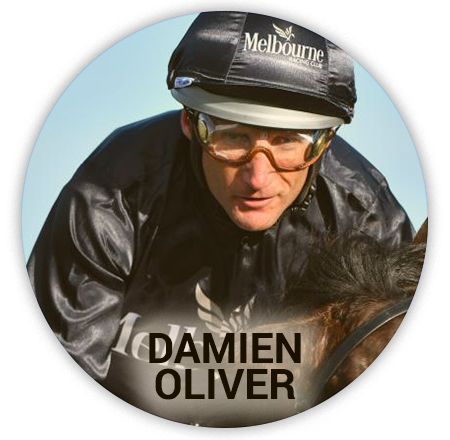 Damien Thornton
Damien's mostly known for his long-term partnership with trainer Chrills Weller, riding Ocean Billy from that stable. Thornton has proven to be among the top jockeys in Victoria with 2 wins in Group 1 races so far. The first one was in the 2020 Australasian Oaks, a 2000m long race where he saddled Toffee Tongue, whereas the second one was on top of Yearning in Thousand Guineas 2021, a race of 1600m.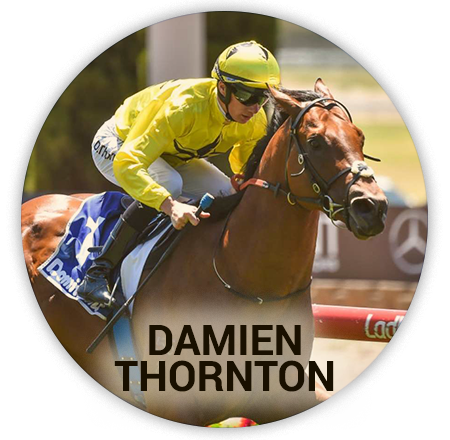 Ron Stewart
Ron Stewert isn't experienced in riding mounts in the Melbourne Cup, although he has three notable winners in races from Group 1 throughout his career. This jockey that comes from Queensland is 38 years old, and he rode in the Cup for the first time in 2021, on top of Selino.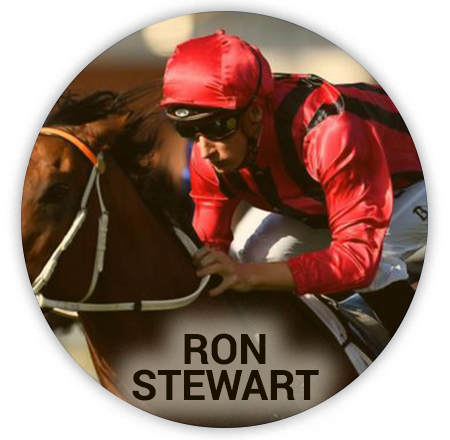 Lachlan King
Being among the youngest Melbourne jockeys, many believe we are yet to see the best days of this Australian jockey. His first ride was in 2016 on top of Echuca in the Bowie Rocks race, and he first won a month later in Tolstoy (AUS) riding Moulamein. When it comes to the Cup, he is mainly known for his cooperation with the stable of Johnny Get Angry.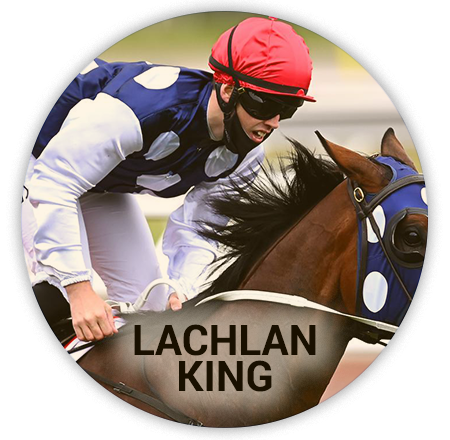 Daniel Stackhouse
Daniel Stackhouse is a New Zealander who has brought victory to 87 winners in Victoria in the season of 2020, which got him to finish at the 6th place in the Premiership list. This Kiwi jockey is yet to fight for his first win in Group 1 races.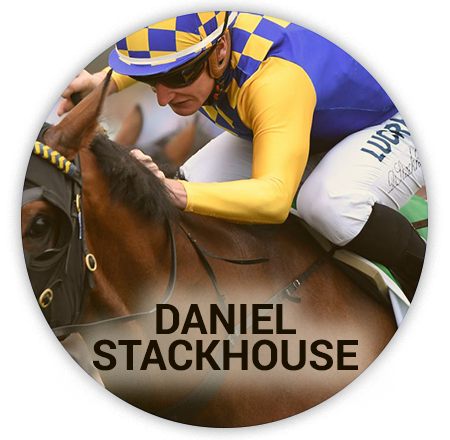 Luke Currie
Currie is a famous veteran rider in Victoria races, scoring 13 wins in Group 1 races over his 20-year-long career. After suffering from a serious injury in 2020, resulting in a fractured spine and ribs, he came back in 2021 riding for the Anthony and Sam Freedman stable on top of Persan.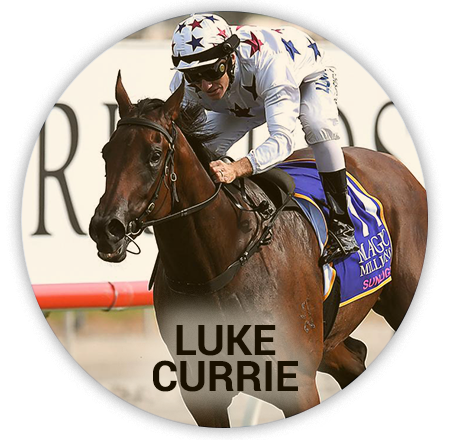 Blaike McDougall
Blake McDougall is 28 years old, currently weighing 53 kg, with a total of 662 wins throughout his career. We have seen this veteran jockey on the back of serious horses coming from reputable stables, but he still hasn't been able to score a win in Group 1 races. In 2021, he rode the Melbourne Cup on top of Carif.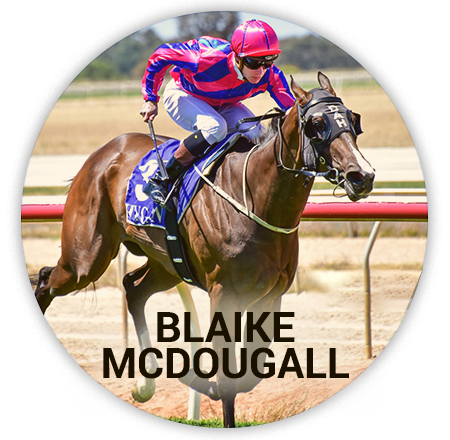 Fred Kersley
Fred is another among the Melbourne Cup racers who are new on the field at this final race, but many punters recognise him by his father, a veteran trainer of a horse champion who carries the same name. In 2021, he saddled Master of Wine during the Cup race.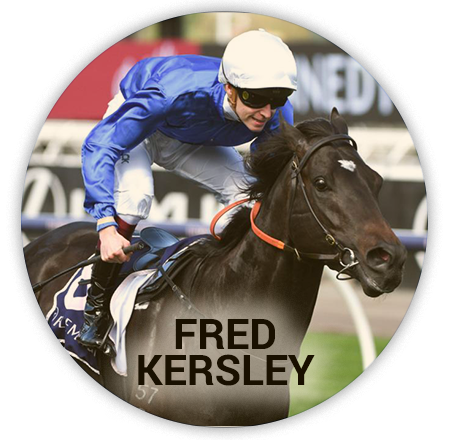 Rachel King
The only Melbourne Cup female jockey in 2021, Rachen King went to make some history and record the second time a woman has turned out victorious besides Michelle Payne, who has won the Cup in 2015 on top of Prince of Penzance. She didn't succeed, though, riding on top of Pondus in 2021.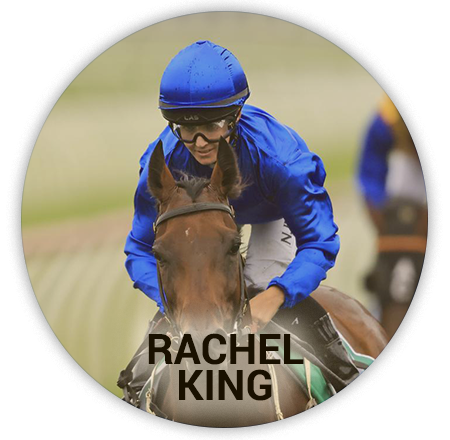 Kerrin McEvoy
Another one among Melbourne Cup racers that have turned out victorious in the Cup is Kevin McEvoy – a well-known local name among Aussie punters. Besides other races in Group 1, his most noteworthy career wins are the ones in the Melbourne Cup – in 2000 on the back of Brew, in 2016 riding Almandin, and recently in 2018 riding Cross Counter.
Patrick Moloney
The duo of Patrick and Jim Molouney is known to many Aussie punters and spectators. This 27-year-old jockey who regularly rides for his uncle Jim has managed to acquire 62 wins in Victoria last season. Still, he has never won a Group 1 race, and the losing streak continued in the Cup in 2021, on top of Miami Bound.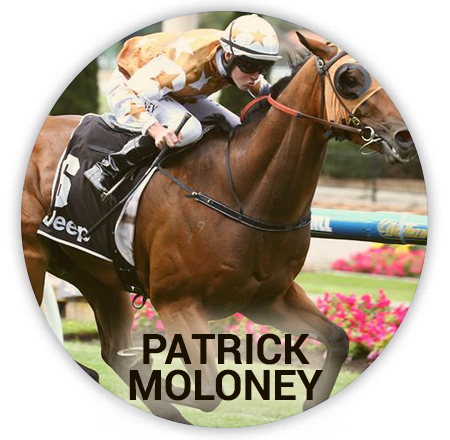 Harry Coffey
Coffey is another familiar name among Aussie Cup fans due to its presence in the Victorian racing industry for several years now. Even though he struggles with a medical condition called cystic fibrosis, he somehow manages to keep it under control and turn out successful in plenty of races. His most eminent win was aboard Sopressa in the 2018 Australasian Oaks.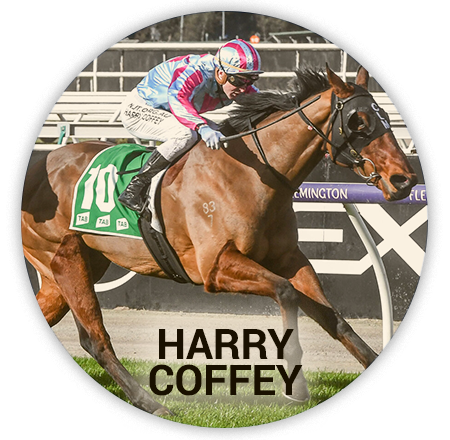 Craig Newitt
Coming from a family of jockeys, where both his father and his mother rode horses for a living, it's no wonder how Craig Newitt is among the most prominent jockeys in Australia at the moment.
Having chained successes when partnered up with the Mick Price stable, the highlight of his career was probably the winning of the 2015 Victoria Derby, when he rode Tarzino. Some find it surprising that Craig never showed particular success during Melbourne Cup races.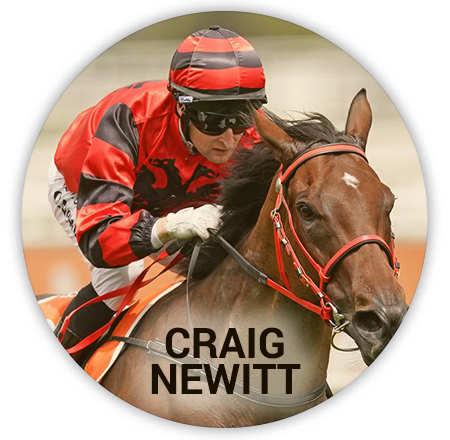 Dean Holland
Dean Holland is also active in the Victorian racing scene for several years now, This jockey is 33 years of age, and his only Group 1 win was aboard Small Minds in the 2010 Australasian Oaks in 2018. In 2021, many bookies believed he stood a solid chance on top of Tralee Rose.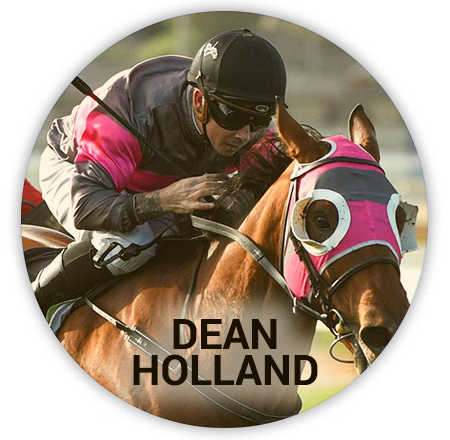 Teo Nugent
Teodore Nugget is a great local apprentice in the season of 2020/21 who has partnered up with stables such as Maher/Eustace and Gai Waterhouse. He has gained one win in Group 1 races just recently in 2021, on top of Portland Sky in the Oakleigh Plate, an 11m race. In 2021, he rode Floating Artist in the Cup.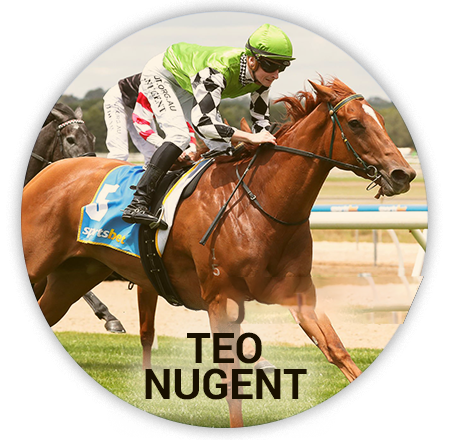 Michael Dee
Born and raised in New Zealand, this Kiwi jockey came to Australia in 2015, and up until turning 54 years old, he managed to bring five horses to the winning line in Group 1 races. In the 2021 Melbourne Cup, he rode on top of Great House.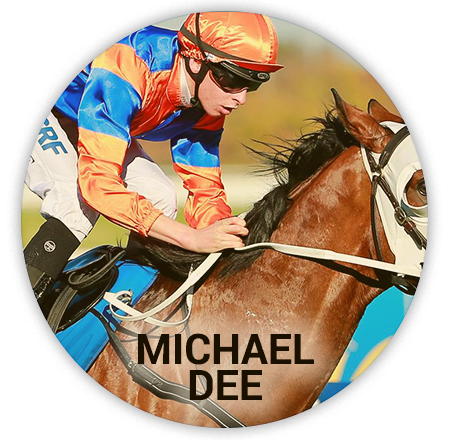 Glen Boss
Glen Boss is a holder of a very prestigious Melbourne Cup record – he has brought the same mare to victory three times in the last 150+ years. Almost everyone who watches or bets on the Cup in recent years associates Glen with Makybe Diva, the mare that took the Cup home in 2003, 2004, and 2005. Besides this, this low-weight jockey has 90 other wins in Group 1 races.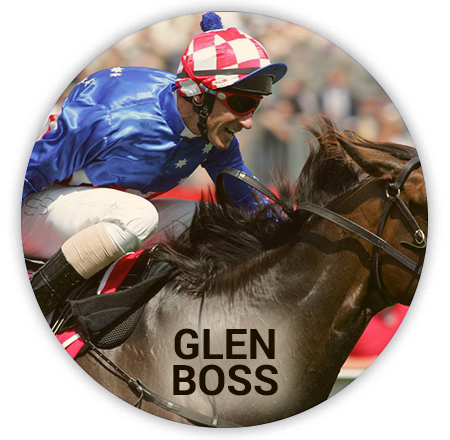 Recent Melbourne Cup Winning Jockeys
| Year | Horse | Jockey | Weight | Time |
| --- | --- | --- | --- | --- |
| 2021 | Verry Elleegant | James McDonald | 57kg | 3:17.43 |
| 2020 | Twilight Payment | Jye McNeil | 55.5kg | 3:17.3 |
| 2019 | Vow And Declare | Craig Williams | 52kg | 3:24.8 |
| 2018 | Cross Counter | Kerrin McEvoy | 51kg | 3:21.2 |
| 2017 | Rekindling | Corey Brown | 51.5kg | 3:21.2 |
| 2016 | Almandin | Kerrin McEvoy | 52kg | 3:20.6 |
| 2015 | Prince Of Penzance | Michelle Payne | 53kg | 3:23.1 |
| 2014 | Protectionist | Ryan Moore | 56.5kg | 3:14.1 |
| 2013 | Fiorente | Damien Oliver | 55kg | 3:20.30 |
| 2012 | Green Moon | Brett Pebble | 53.5kg | 3:20.4 |
| 2011 | Dunaden | Christophe Lemaire | 54.5kg | 3:20.84 |
| 2010 | Americain | Gerard Mosse | 54.5kg | 3:26.87 |
Female Jockeys
Although not as many as men, Melbourne Cup female jockeys have also been present in the field, with the first ever to ride a runner participant was a Kiwi jockey named Maree Lyndon. She rode a horse named Argonaut Style in 1987, and she ended up in the penultimate place out of 21 participants.
On the other hand, the first Australian female jockey in the Melbourne Cup was Clare Lindop, on top of Debben in 2003.
The only victorious out of the female jockeys up to date is Michelle Payne, who won the Cup on top of Prince of Penzance.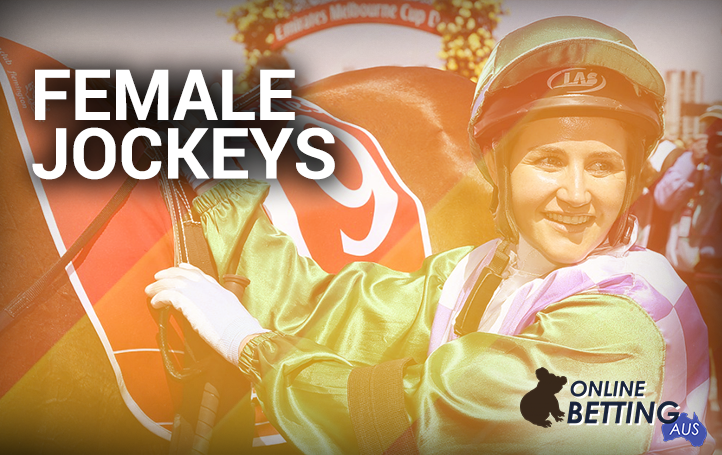 Most Successful Melbourne Cup Jockeys
Hardly anyone believed that the number of victories Bobby Lewis has scored throughout the years would be matched by another, at least not anytime soon. It happened with Harry White, and now both hold the same number of victories in the Melbourne cup – four.
The next three jockeys also share the number of successes scored in the biggest race of the Nation – Glen Boss, Damien Oliver, and Kerrin McEvoy.
| Jockey | Number of wins | Winning Years |
| --- | --- | --- |
| Bobby Lewis | 4 | 1902, 1915, 1919, 1927 |
| Harry White | 4 | 1974, 1975, 1978, 1979 |
| Glen Boss | 3 | 2003, 2004, 2005 |
| Damien Oliver | 3 | 1995, 2002, 2013 |
| Kerrin McEvoy | 3 | 2000, 2016, 2018 |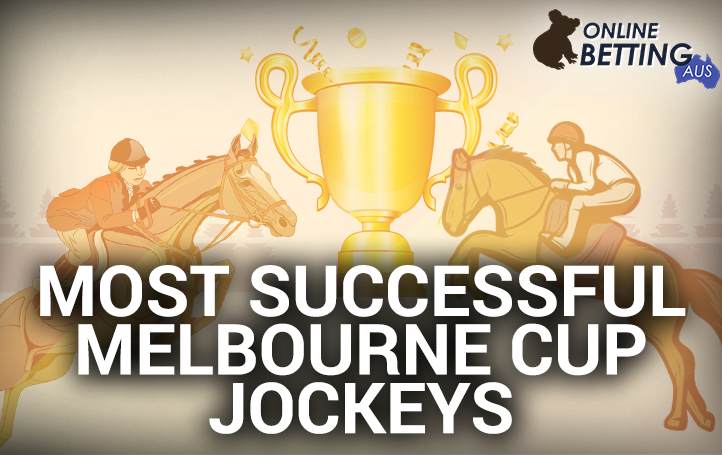 Melbourne Cup winners by the colour of silks
Many punters believe that the colour of silks the riders wear may affect the outcome of the race and place the so-called omen bets. So, for those who love betting on the Melbourne Cup jockey colours, we provide statistics of the winning colours in the table below.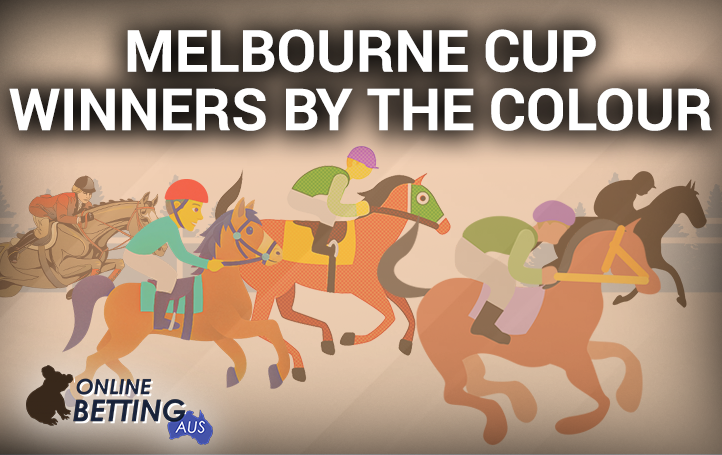 | Colour | Number of victories |
| --- | --- |
| Blue | 39 |
| Black | 25 |
| Red and Maroon | 19 |
| Pink and Purple | 13 |
| Yellow and Gold | 24 |
| Grey and Silver | 5 |
| Green | 7 |
| Orange | 5 |
| White | 14 |
| Cream | 1 |
| Brown | 2 |
FAQ
Who is the Oldest Melbourne Cup Winning Jockey?
The oldest jockey who has taken the victory home is Craig Williams, when he broke the record and made history at the 2019 Cup when he was 42 years old. Before that, the record was kept by Frank Reys, who won in 1973 at the age of 41.
Do Melbourne Cup Jockeys Still Use Whips?
Yes, they do, but only a limited number of times and under particular conditions. The jockey can use a whip only 5 times during the last 100m of the race without doing it consecutively. Also, they can use the lash if the horse runs in a way that might impose danger to other competitors.
How Much Does a Jockey Get Paid for Winning the Melbourne Cup?
The general rule states that the jockey gets paid 5% of the prize pool related to the winning horse. For instance, James McDonald earned AU$220,000 in the 2021 Melbourne Cup.
How Many Female Jockeys Have Won the Melbourne Cup?
Up until now, only one female jockey has won the Melbourne Cup. The placeholder is Michelle Payne when she won aboard Prince of Penzance in 2015.
Which Jockey has Won the Most Melbourne Cups?
Two jockeys share the same number of victories in the Melbourne Cup – Bobby Lewis and Harry White, and both have won 4 times. Bobby was the first one to achieve that number, riding The Victory (1903), Patrobas (1915), Artilleryman (1919), and Trivalve (1927). Harry White has scored wins on top of Think Big (1974 & 1975), Arwon (1978), and Hyperno (1979).